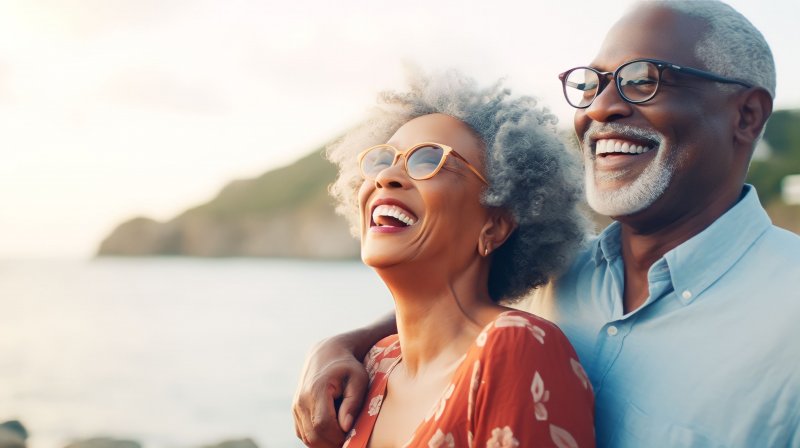 The years can take a toll on your smile, but cosmetic dentistry can work wonders in reversing the wear. By filling in, covering up, or simply removing cracks, chips, gaps, and stains, a dentist can make a smile brighter and fuller while making the face appear more youthful. Here are several techniques a dentist could use to buff out the years and have you looking a decade sharper.
Porcelain Veneers
Porcelain veneers can cover up chips, cracks, stains, and gaps, resulting in a fuller, whiter smile. They can assist with anything from a minor detailing procedure to a full restoration.
Veneers are small, thin shells usually made of porcelain designed to mimic the color, luster, and shape of natural teeth. To make room for one, the dentist shaves a conservative amount of enamel off the surface of the tooth being treated. The veneer is then cemented to this surface, covering flaws and matching the neighboring teeth perfectly. The whole treatment can usually be completed in one or two appointments.
Since the procedure involves removing enamel, a tooth receiving a veneer will need to wear one for the rest of its life. While veneers can last for twenty years with good hygiene and proper maintenance, they will need to be replaced at some point.
Dental Crowns
Sometimes a tooth can be misshapen, broken, or reduced in size, sometimes as a result of tooth decay or a root canal. In many of these cases, a dental crown can be used to restore the smile to its original appearance and protect the tooth from further injury. These restorations can protect a tooth from infection. It can sometimes save a tooth from needing extraction. A dental crown can last up to twenty years and will need eventual replacement.
Cosmetic Tooth Bonding
Tooth bonding can resolve some minor chips, cracks, and gaps. In this process, the flaw in question is treated with a resin putty color-matched to the tooth. This resin is then shaped to match the contours of the rest of the tooth before being hardened with a specialized light. This process can be completed in one visit, often when a correctable flaw is found during a routine dental appointment.
Teeth Whitening
With yellowing or stains on the surface of or beneath the enamel, professional whitening treatment can sometimes make the teeth up to ten shades whiter. Whitening treatments from a dentist are more powerful than anything bought from a store. Your dentist can provide you with the service in-office or with a take-home whitening kit. The whitening agent is typically hydrogen peroxide or carbamide peroxide, and while it works on natural teeth, it will not work on restorations or veneers.
Good hygiene will do much to keep your smile looking great as the years go by, but sometimes a little dental intervention can go a long way. With these cosmetic dental procedures and good maintenance on your part, your smile can stay young for decades to come.
About the Author
Dr. Alexandria N. Arditti earned her Doctor of Dental Surgery from the Herman Ostrow School of Dentistry at the University of Southern California. She began her work at the Pacific View Dental Group in 2017. Under her leadership, the staff provides compassionate, dedicated care for patients with services including preventive, restorative, and cosmetic dentistry like crowns, veneers, and whitening. If you are curious about what cosmetic dentistry can do for you, contact her online or dial (714) 592-4294.