Dental Crowns – Huntington Beach, CA
Repair Your Damaged Tooth with a Durable Solution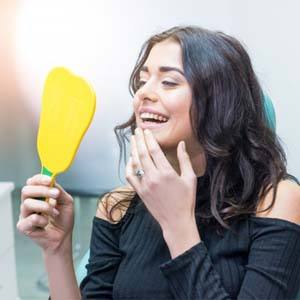 Is one of your teeth so broken or weak that you can't chew without discomfort? Do you have a misshapen tooth that makes it hard to smile with confidence? If so, you'll be happy to know that Dr. Alexandria N. Arditti and the rest of our team at Pacific View Dental Group can help! One of the most common ways in which we repair damaged teeth is with dental crowns in Huntington Beach, CA. These restorations are designed to bring back the ideal function and appearance of your tooth, and the treatment only takes two appointments. Contact our team today to learn more about how we can repair your damaged tooth with a durable solution!
What Is a Dental Crown?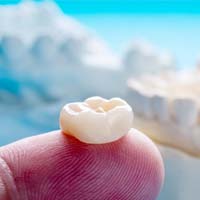 A dental crown is a personalized "cap" that covers the entire section of the tooth that extends past the gumline. The primary purpose of a dental crown is to strengthen a weakened, broken, or otherwise damaged tooth and protect it from additional damage. However, we can also place a crown to enhance the appearance of a misshapen or worn-down tooth.
Crowns can be crafted from various materials, such as gold and other precious metals, but many of our patients prefer porcelain crowns due to their seamless appearance. If you require a metal crown, we may also place a porcelain-fused-to-metal crown for the durability of metal combined with the aesthetics of porcelain.
The Dental Crown Process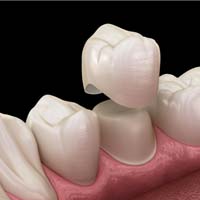 Dr. Arditti can place a dental crown over the course of two appointments. During your initial visit, your dentist in Huntington Beach will prepare the tooth by removing any damaged tissue as well as a small amount of surface enamel on all of its sides. This step allows your restoration to fit within the natural line of your smile. Once the tooth is prepared, a bite impression is captured. This impression is sent to the dental lab, where a custom crown is made. Then, we place a temporary to protect your prepared tooth. Once we receive the final crown from the lab, you'll return to our office, so we can exchange the temporary for a final, customized restoration.
The Benefits of Getting a Dental Crown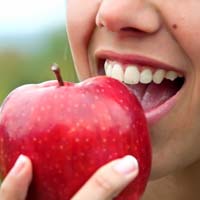 In addition to being versatile, dental crowns offer a multitude of benefits, including:
Greater comfort – By shielding your tooth, you'll be able to chew your favorite foods with ease again.
Protection for damaged teeth – Crowns minimize the risk of a tooth sustaining even more damage. It might even save that tooth from having to be extracted.
Simple maintenance – You can care for dental crowns in the same way as natural teeth (regular brushing, flossing, dental checkups, etc.).
Enhanced appearance – If you choose a ceramic crown, it can be personalized to blend in with your surrounding pearly whites.
Dental Crown FAQs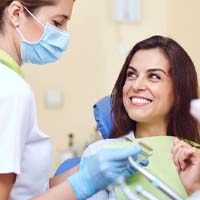 Have you never received a dental crown before? Whether this is the first restoration you've ever needed or you haven't required a crown in quite some time, Dr. Arditti is happy to go over the process of receiving dental crowns so you can be fully informed on the process. Below, we've included a few of the most common questions we've heard over the years for added convenience. If you have other concerns, please give us a call and we'll make sure they are addressed!
Are Dental Crowns Permanent?
Keep in mind that dental crowns are meant to be a long-term solution for damaged or decaying teeth. However, like all restorations, they are not meant to last for life, nor are they permanent. Typically, a dental crown will last up to 15 years with proper maintenance. What is permanent is the process of shaping the tooth so a crown can fit over it properly. Tooth enamel does not grow back after it has been modified, which is exactly why dental crowns are needed in the first place. This means your tooth will always need a crown going forward. Thankfully, dental crowns protect teeth from future damage, ensuring it lasts much longer and won't need removal any time soon.
Do Dental Crowns Get Cavities?
While it's technically impossible for a dental crown to develop cavities due to its inorganic properties, the crown underneath it can still develop decay. The reality is even teeth that are covered with a crown can develop decay just as easily as teeth without crowns. If you have poor oral hygiene, oral bacteria and plaque can form around the gum line where the tooth meets the crown. For this reason, you'll need to perform daily brushing and flossing before it can cause harm to your tooth.
Does It Hurt to Get a Dental Crown?
Whether you're receiving dental crowns or fillings, Dr. Arditti ensures your mouth is numbed before performing any restorative dental work. Keep in mind this preparatory phase does not necessarily mean you'll receive a crown the same day. Rather, this is done so any modifications done to your tooth are not felt. When you come back to our office for your second appointment to have the permanent restoration attached, we'll ask if you'd like to have local anesthetic beforehand. It is common to notice some mild sensitivity over the next few days following your procedure. This is especially normal if you're receiving root canal therapy. To manage any discomfort, feel free to take OTC painkillers.
What Happens If You Wait Too Long to Get a Dental Crown?
As someone who cares deeply about maintaining the natural structure of your teeth, Dr. Arditti will only recommend a dental crown if you absolutely need it. We understand that you may be tempted to put off the procedure, but it's better to get it taken care of now rather than later. The longer you wait to have your dental placed, the longer your tooth remains exposed to harsh conditions like chewing forces, food debris, and oral bacteria. This can lead to the condition of the tooth worsening to the point of needing root canal therapy or an extraction. As a result, getting a dental crown can help you save money on more expensive procedures later.