Dental Bridges – Huntington Beach, CA
A Simple Way to Fill the Spaces in Your Smile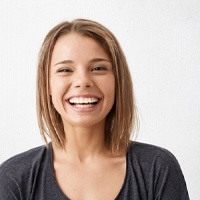 Are you missing a tooth? What about two, three, or even four teeth in a row? Nowadays, there are more options to replace your lost teeth besides dentures. At Pacific View Dental Group, Dr. Alexandria N. Arditti can fill the gap in your grin with a realistic dental bridge in Huntington Beach, CA. If you're tired of dealing with the empty space left behind by missing teeth, then contact us today to find out whether a dental bridge is just the solution you need!
What Is a Dental Bridge?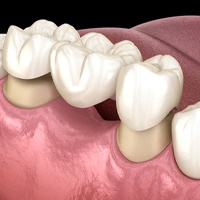 A dental bridge is a type of restoration used to bring back a specific number of teeth. At each end of the bridge is a dental crown, and artificial teeth called pontics are suspended in between them. The crowns can be secured onto your remaining teeth or dental implants, enabling the pontics to effortlessly fill the empty space.
Like other dental restorations, bridges can be made from a number of different materials, but porcelain is a popular choice due to its lifelike appearance.
Types of Dental Bridges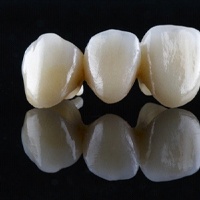 There are two main types of dental bridges. Your dentist in Huntington Beach will recommend one for you based primarily on the state of your oral health.
Traditional Dental Bridge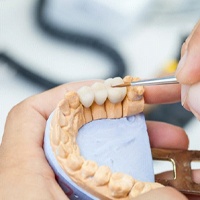 If the natural teeth on either end of the gap are still healthy and strong, then Dr. Arditti can place a traditional dental bridge. The teeth that will support the restoration, known as abutment teeth, are slightly modified to accommodate the bridge. The traditional dental bridge treatment can be completed in a couple of appointments, it doesn't require oral surgery, and it's generally the less expensive option up-front.
Implant Bridge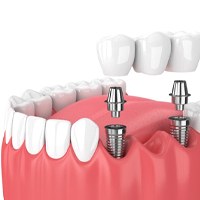 If you're missing three or more consecutive teeth, then a bridge can be anchored onto two dental implants. These titanium posts are surgically inserted into the jawbone, where they function as the roots of your lost teeth. Implant bridges generally last longer than conventional bridges, and they also restore more of the chewing power that your natural teeth had.
The Benefits of Getting a Dental Bridge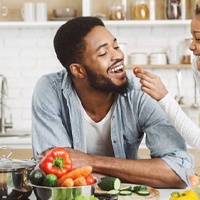 A dental bridge is a simple way to fill the spaces in your smile while also being cost-effective. They help you grin confidently without worrying about gaps, and they make chewing and speaking easier. Additionally, they keep your remaining teeth from drifting out of alignment (an issue that could increase the risk of cavities and other problems down the road).
When a bridge is supported by dental implants, you can all of the above benefits without having to alter any of your natural tooth structure. You'll also enjoy replacement teeth that last much longer and feel more natural.
Dental Bridges FAQs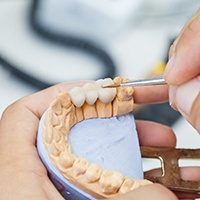 If you have one or more missing teeth, you realize how much it can affect your appearance and overall quality of life. Fortunately, you don't have to live with gaps in your smile forever. Dental bridges in Huntington Beach are an excellent tooth-replacement solution that can help you enjoy a fully functioning grin once again! Of course, it's completely normal to have questions about the process before committing to it. To help you, our team at Pacific View Dental Group has decided to answer some frequently asked questions below. If you don't see your question answered, simply contact our team for a consultation!
Is a Partial Denture the Same as a Bridge?
In short, the answer is "no." There are a few distinct differences. While dental bridges are designed to stay in place, partial dentures can be removed at any time. Furthermore, partial dentures can replace any number of missing teeth, while dental bridges are limited to replacing one tooth or several teeth in a single row. Lastly, dental bridges are anchored in place via dental crowns or dental implants which surround the gap. Partial dentures utilize metal clasps or clips that discreetly attach to your natural teeth.
How Many Teeth Can a Dental Bridge Replace?
A dental bridge can replace 1-4 consecutive missing teeth. Of course, this restoration is often used to replace 1-2 teeth. It's worth noting that the longer the bridge extends, the less stable it may become. That's why it's a bit risky to use a dental bridge to replace three-plus teeth. In that case, it may be better to explore other options like implant bridges.
How Long Should a Dental Bridge Last?
Dental bridges typically last 5-15 years. The longevity of yours largely rests on a few factors like the materials that are used, the location of the dental bridge in your mouth, and how well you care for your smile. High-quality materials (we use porcelain or zirconia) will naturally last longer than cheaper alternatives that are a short-term solution at best. The location matters as well since dental bridges toward the back of your mouth withstand a lot more pressure from chewing. And, of course, your oral hygiene routine will impact the condition of your teeth, gums, and dental bridge.
Can Dental Bridges Get Cavities?
Since dental bridges are made from high-quality materials like porcelain as opposed to enamel, they cannot develop cavities. Of course, your remaining teeth and the ones that support your dental bridge can. So, implementing a solid oral hygiene routine is as important as ever. Make sure to brush at least twice a day, floss daily, and get a dental cleaning every six months. You should also carefully clean underneath your dental bridge to keep your gums in excellent condition. If you ever need a refresher on how to clean your restoration properly, ask our dentist in Huntington Beach.