Dentures – Huntington Beach, CA
Regain a Healthy, Complete Smile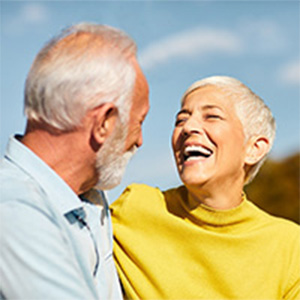 Not only does tooth loss affect your appearance, but it also potentially impacts your quality of life. Fortunately, you can say goodbye to the gaps in your grin via tooth replacement with dentures in Huntington Beach. At Pacific View Dental Group, we offer high-quality and affordable dentures so you can regain a healthy, complete smile without breaking the bank. If you'd like to learn more about this tooth-replacement solution, continue reading or schedule a consultation with our team today!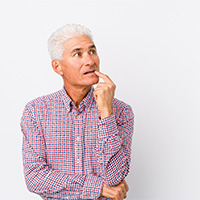 Why Do I Need to Replace My Teeth?
Every tooth serves an important role in your oral health and functionality. The more teeth you are missing, the more each aspect declines. Over time, any remaining teeth lose support, causing them to drift out of position. Not only does this increase your risk of cavities and gum disease but also additional tooth loss.
You will have difficulty eating certain foods which can lead to nutritional deficiencies from an incomplete diet. It is common to have slurred speech as it becomes harder to pronounce certain sounds. You may also notice changes to your appearance because your facial structures lose support. This can cause premature wrinkling and sagging of your skin.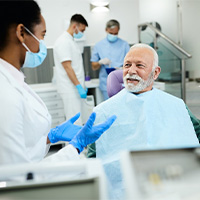 Who Is A Good Candidate For Dentures?
Truthfully, almost any person missing several, most, or all their teeth is a viable candidate for dentures. During your consultation, Dr. Arditti will conduct a thorough oral examination to determine whether this solution is right for you. If you have any preexisting oral health issues like tooth decay or gum disease, you'll need to have them addressed before you can move forward with the process of getting dentures. Your mouth must be in optimal condition to support your new prosthetics!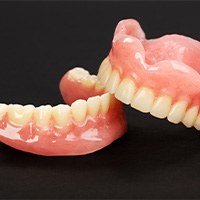 Types of Dentures
During your initial consultation, your dentist in Huntington Beach will evaluate your needs and recommend one of the following options:
Partial Dentures
If you only have a few missing teeth, partials may be a good option to consider. They replace teeth that are on opposite sides of your mouth and keep the existing teeth from shifting around. Partial dentures are custom-made to fit your mouth perfectly and seamlessly complete your smile. They're attached to your remaining natural teeth with clasps.
Full Dentures
Full dentures are ideal for patients missing an entire arch of teeth. They're designed using a gum-colored base and enamel-colored replacement teeth for a more natural appearance. Unlike partials, they're held in place using natural suction or denture adhesive.
Implant Dentures
If you want a smile that's long-lasting and as stable as possible, you should consider getting implant dentures. The prosthetic is attached to titanium dental implants that are surgically inserted into the jawbone. Once fully healed, you'll be able to enjoy unmatched chewing and functionality. Plus, your new-and-improved grin can last several decades if properly cared for!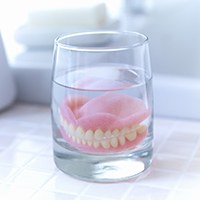 Benefits of Dentures
When you're missing multiple teeth, it can be challenging to complete daily tasks, like chewing your food, speaking clearly, and smiling with confidence. Dentures are a life-changing tooth replacement option for patients who are missing several, most of, or all of their teeth because of the restoration's ability to improve quality of life. If you have suffered from tooth loss, here are some of the benefits that dentures may be able to provide to you.
Psychological Benefits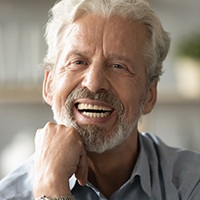 People who are missing teeth can experience all sorts of psychological downsides. When there are obvious gaps, it's common to feel insecure. This can make individuals less likely to engage in social activities. By restoring the appearance and function of your smile with dentures, you are more likely to experience improved self-esteem. Ultimately, dentures can reduce anxieties surrounding appearance, speech articulation, chewing ability, and more.
Clearer Enunciation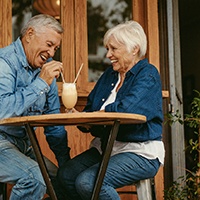 Without having a complete smile, it can be much more difficult to speak. To pronounce words, your lips and tongue need to be positioned properly. Without being able to touch your tongue to your teeth, some words are very difficult to enunciate. Since dentures replace your missing teeth, they allow you to speak more clearly. After a short adjustment period and some practice, talking will come naturally.
Improves Nutrition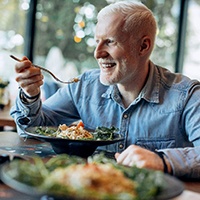 Many nutritious foods are tough in texture. This includes fruits, veggies, and healthy proteins. When you can't chew your food thoroughly, you can experience things like indigestion and malnutrition. With an improved ability to chew, dentures allow for a more expansive diet full of nutritious foods. In the end, your body will receive more of the essential nutrients it needs for optimal overall health.
Preserves Oral Health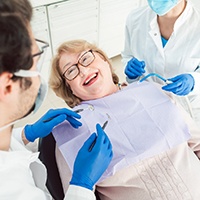 If you still have some remaining healthy teeth, dentures can help to prevent them from shifting around to other areas of the mouth. Also, dentures bear some of the weight of chewing, therefore reducing the wear and tear of the existing teeth.
Expands Opportunity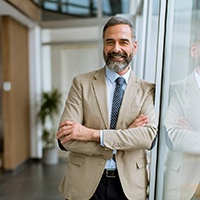 Your smile is one of the first things people notice about you. When it comes to job interviews and getting promotions, it's crucial to make a great first impression, and a complete smile is certainly an advantage. When you feel more confident about your appearance, it will show in the way you present yourself. This means greater opportunities in your professional and personal life.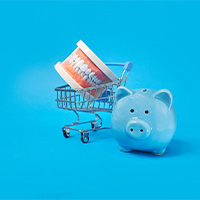 How Much Do Dentures Cost?
There is no set price for dentures because the amount is determined by your particular treatment plan, such as how many teeth you are replacing, the materials used, and if you need any additional procedures. Often, your dental insurance will cover a portion of the cost to keep your new smile affordable.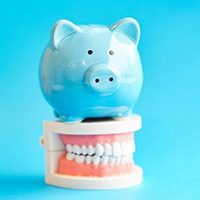 Understanding the Cost of Dentures
After learning about dentures, you're probably more excited than ever to start rebuilding your smile. However, you may be wondering about the cost of dentures in Huntington Beach before you decide to move forward with the process. During your consultation, our team at Pacific View Dental Group will conduct an oral examination and explain which factors will affect the final price. Following the appointment, you'll have a better understanding of what you can expect to pay for your treatment.
Factors That Affect the Cost of Dentures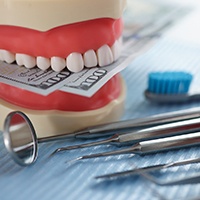 Multiple considerations can influence the price of dentures in Huntington Beach, including:
Any work needed beforehand like tooth extractions or periodontal therapy
The number of teeth you're missing
The type of acrylic used for the base (part that is dyed to match color of gum tissue)
The materials your denture will be made of (usually porcelain or acrylic)
Is cost a priority? If so, you may be tempted to opt for cheaper dentures. Even though the upfront cost is certainly lower, they tend to break easily and require replacement much sooner than you'd expect. That's why quality should always be of utmost importance, regardless of the cost.
Are Implant Dentures More Expensive?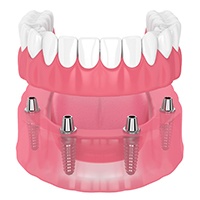 Yes, implant dentures are generally more expensive than traditional ones. However, there's a good explanation for that. They require oral surgery and the placement of multiple dental implants, making them more reliable for everyday use since they do not shift out of place. Many patients discover this method of tooth replacement is well worth the investment because of several tremendous benefits.
Not only do implants stimulate the jawbone, but they can last decades or even a lifetime with proper care and maintenance with help from your denture dentist in Huntington Beach. That means you won't have to worry about replacing your dentures nearly as often!
Does Dental Insurance Cover Dentures?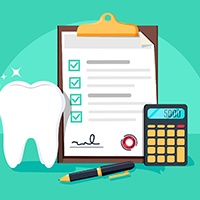 Dentures are considered a major procedure which is why most dental insurance plans will cover approximately 50 percent of their cost. Certainly, every policy is unique, meaning the amount of coverage provided will vary from patient to patient. If you have any questions about your plan, contact your insurance provider or ask our dental team for assistance. We will gladly review the details of your policy and do everything possible to maximize your benefits and reduce out-of-pocket expenses.
Other Options for Making Dentures Affordable
We understand not everyone has dental insurance which is why we offer an additional financing option to make your dental bills much easier to manage. With CareCredit Financing, you can split up the total cost of your treatment into smaller, budget-friendly monthly installments. Options even come with little-to-no interest!
Also, we have a wellness and prevention program that, among many benefits, offers you 10 percent off treatments like dentures. Ready to begin down the path to a beautiful, complete smile? Contact us today to schedule a consultation so we can answer any questions you might have.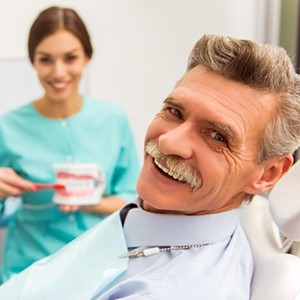 Denture FAQs
Rebuilding your smile with dentures in Huntington Beach can be life-changing. Not only will you be able to smile confidently again, but you should no longer have difficulties eating or speaking like you may have had when your teeth were missing. Having a good idea of what to expect when getting dentures can help make the adjustment process much smoother. That's why we've answered some frequently asked questions about dentures in the following section.
How Often Should I Wear My Dentures?
We highly suggest wearing your dentures as much as you can throughout the day, particularly when you first get them. This can speed up the process of your mouth adjusting to them. However, you shouldn't wear them 24/7. Removing your dentures at night will give your gum tissue and jawbone a chance to recover. While you sleep, let your new teeth soak in a glass of denture cleanser or room-temperature water so that they don't dry out and lose their shape.
How Do I Properly Take Care of My Dentures?
In addition to soaking your dentures overnight, you should take them out and rinse them off with water after every meal. This prevents food debris from lingering and attracting harmful bacteria that could contribute to painful gum infections. Also, scrub your dentures clean every day with a soft-bristled denture brush and a nonabrasive denture cleanser. After waking up and before inserting your dentures, gently brush your tongue, gums, and palate to get rid of any plaque that may have built up during the night.
Will I Need to Use Dentures Adhesive?
As long as your dentures fit properly, you actually shouldn't need denture adhesive in order for them to stay in place when you're chewing or speaking. With that being said, it may bring you some peace of mind if you're nervous about them slipping. It can also help stabilize your dentures as you're getting used to eating while wearing them.
How Long Will My Dentures Last?
The answer to this question depends on which type of denture you have. If you're getting a traditional full or partial denture, you can expect it to last between five and ten years. On the other hand, an implant denture can last significantly longer due to the powerful bond that the implant posts form with your jawbone. In fact, dental implants can last up to 30 years with the right aftercare.
Should I Have All My Teeth Pulled to Get Dentures?
Repairing a damaged tooth whenever possible is always preferable to replacing it. Tooth extractions of any kind will only ever be recommended if deemed absolutely necessary, like when a tooth is too damaged to save thanks to extensive decay, severe infection, or trauma that has broken off most of the enamel. If all the teeth in an arch are decayed or infected with gum disease, replacing them with dentures may be a viable option, but Dr. Arditti will always explore all of your options before recommending extractions for dentures.
Will It Hurt to Get Dentures?
If you need to have teeth extracted before getting dentures, you are likely to experience some discomfort after the oral surgery. Take your prescribed pain medication as directed. The discomfort should improve 3 to 5 days after the procedure. When you first receive new dentures, some minor irritation may occur as your mouth adjusts to the new appliance. The amount of time that the discomfort lasts will vary from person to person. If discomfort persists, give us a call.
Is It Hard to Talk with Dentures?
When you first get dentures, it will take time to get used to speaking with them because you're so used to speaking with your natural teeth. The exact amount of time it takes varies from person to person, but generally speaking, the more you practice, the faster the adjustment process goes. Reading out loud to yourself and repeating difficult-to-pronounce words is a good exercise. Speak slowly at first. Fast speech can come out muffled if you aren't used to talking with dentures.
Can You Still Eat Steak with Dentures?
Tough meats like steak are often difficult to chew with dentures, but it is still possible to do so if you take all the right precautions. Select tenderloin and other beef cuts that don't contain as many connective tissues or muscle fibers, as these elements are what often make steak difficult to chew. Be sure that the meat is thoroughly tenderized ahead of time. Cut the steak into small, manageable pieces – the smaller they are, the easier they will be to chew.