Dental Implants Improve Huntington Beach Smiles
Are you Ready to Replace Your Missing Teeth…Permanently?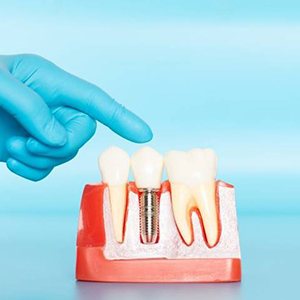 While most people with missing teeth are extremely aware that they are a big cosmetic problem, what they may not know is that they can actually be a huge oral health risk as well. When people have missing teeth, it's very common for the remaining teeth to drift into the gaps and cause crowding and bite alignment issues. Plus, patients with missing teeth are much more likely to develop gum disease, which in itself is the leading cause of tooth loss!
If you currently have missing teeth, the only way to prevent these problems is to replace them. For most patients the best way to replace teeth, according to Dr. Alexandria N. Arditti and the dental community as a whole, is with dental implants. Dental implants are the most state-of-the-art tooth replacement solution available today, they can provide a lifetime of daily benefits.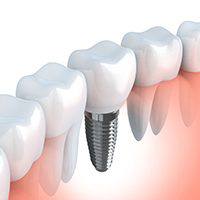 What Are Dental Implants?
A dental implant is actually a small titanium post that is placed directly into the jawbone in order to act as the root structure of a lost tooth. Dental implants are the only treatment that can rebuild both portions of the tooth both above and below the gum line.
Most other tooth replacements only restore the crown (the part of the tooth that shows), which leaves the jaw vulnerable to bone deterioration and chewing capabilities are compromised. With dental implants, not only will your new teeth have unrivaled stability, but your jawbone will also have its internal support restored, which will help maintain the shape of your face and your oral health for years to come. Additionally, you will be able to chew with the same force of natural teeth.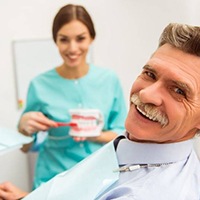 How Do Dental Implants Replace Missing Teeth? How Many?
In order to get dental implants, you will need to undergo a minor surgical procedure in which they are placed into your jawbone. This will be performed by a local specialist recommended by Dr. Arditti so that you only get the best quality care. Once you have fully healed (which can take 3-6 months), you'll return to Pacific View Dental Group to have your new teeth placed.
If you are missing a single tooth, Dr. Arditti can replace it using something called an implant-retained crown. She'll attach a strong metal connector to an implant post called an abutment, and this will have the same basic shape and size as the tooth it is replacing. Then, to finalize the treatment, she'll cover it with an all-porcelain dental crown. Dental porcelain is one of the best materials we use in all of dentistry because it can mimic a natural tooth in almost every way: shape, size, color, strength, and even feel. After a few days, most patients can't even tell the difference between their dental implant and their natural teeth!
Learn More About Implant-Retained Crowns
For multiple missing teeth in a row, these implant-retained crowns can also be used to support a bridge. Two implant-retained crowns will be placed on either side of the gap in a patient's smile, and these will be connected to prosthetic teeth that fill the space between them.
If you are missing multiple teeth throughout your mouth or even an entire arch, dental implants can also be used to support a denture. Using just a few strategically placed implant posts, Dr. Arditti can provide a patient with a secure partial or full denture that will never slip, slide, click, or pop. Plus, thanks to the jaw support given by the implants, these dentures will maintain their fit for much longer than traditional ones. Even better, they are also able to provide a bite force more similar to natural teeth, allowing a patient to eat a wider variety of healthy foods with ease and confidence.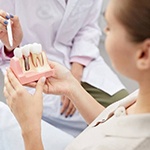 Are Dental Implants Right For Me?
Dental implants look great, feel fantastic, and with the right care, they can last for 30 years or more. If you're ready to finally say, "Goodbye!" to the gaps in your smile, they are the way to do it.
To see if dental implants are right for you, all you need to do is contact our office for a consultation. In addition to Huntington Beach, we're also easily accessible from Costa Mesa, Newport Beach and Fountain Valley.
Cost of Dental Implants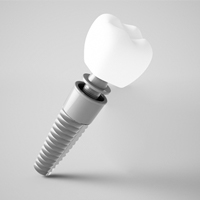 Despite the benefits of dental implants, their cost can be concerning since they are typically more expensive upfront than traditional options, but there's no need to worry. They are more affordable long-term because they should never need to be replaced. Not to mention, you don't need to pay their entire amount at once, giving you more time to pay. We provide you with your custom-estimate during your initial consultation and discuss your payment options to keep your new smile affordable.
Learn More About The Cost of Dental Implants
Implant-Retained Dentures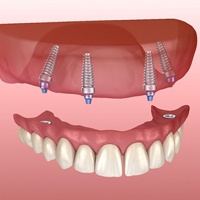 If you're tired of your denture slipping, you can secure it to your jawbone using dental implants. 4 to 8 posts support implant-retained dentures to regain nearly 70% of your natural biting force. You can eat your favorite foods again and smile confidently knowing your teeth are anchored in place. You'll enjoy the next best thing to your natural teeth using a solution that can last for a lifetime.
Learn More About Implant-Retained Dentures
Dental Implant FAQs
For many, dental implants in Huntington Beach are a brand-new treatment. Fortunately, they've been used to replace teeth for over 50 years now. Today, they are now considered the gold standard for tooth replacement. Of course, we understand that you likely have many questions regarding the treatment. That's why we've included a brief section highlighting the most common questions our practice receives! Feel free to look through them before your next visit or dental implant consultation!
Are dental implants painful?
Dental implants are not painful during placement or after they've been placed. The only discomfort you may feel is after the surgery is complete, but this is not unique to dental implants. Any oral surgery requires a healing period and sufficient rest afterwards. Once the implants have fully healed, you can expect your dental implant to feel almost identical to a natural tooth. You can eat the foods you want, smile with confidence and prevent your jawbone from breaking down and losing strength.
Will people notice that I have dental implants?
Only if you tell them! The crown portion of your dental implant is made from porcelain, which is indistinguishable from natural tooth enamel. On top of it's incredibly lifelike appearance, porcelain is also more stain-resistant than tooth enamel because it is smoother and contains fewer cracks and crevices for liquids to seep into. As a bonus, porcelain cannot develop decay because it is made from inorganic material. While you'll still need to practice daily oral care and visit the dentist, there's no reason why anyone would recognize your new teeth as dental implants.
Do dental implants fail?
While it is extremely rare, it is possible for dental implants to fail in a few different circumstances. For example, using tobacco during the healing period of your implant treatment will cause your gum tissue to become inflamed. This can cause the implant to fall out or develop a condition known as peri-implantitis. In other cases, a severe oral injury could knock out the implant, but it would require a great deal of force as it is integrated with your bone tissue. Overall, the risk of dental implants failing only reaches about two percent, while the success rate often falls between 95 and 98 percent. You should always get your implant placed by a professional, as any dentist can technically say they place implants even if they lack the needed expertise.
Do they require special care?
Dental implants are treated no differently than natural teeth. Just make sure to brush twice a day with fluoridated toothpaste, floss once a day (especially around the abutment) and commit to routine checkups and cleanings every six months at our office. This ensures that the components that make up your implant do not develop plaque, which can still infect the gums and cause failure if severe enough. Furthermore, the more complex your restoration and implant treatment is, the more maintenance that may be involved (i.e. a single dental implant vs. an implant-retained removable denture.)
Dental Implant Placement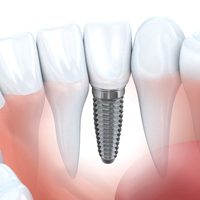 The dental implant placement surgery is one of the first steps in your journey to a restored smile. Dr. Arditti partners with a local specialist for this part of the dental implant process; this team-oriented approach ensures the best possible care during every phase of your treatment. After the surgeon is sure you're comfortable, they'll create incisions in your gums. Then, they'll insert the implants into the bone at precise, pre-planned positions. In many cases, patients are able to resume their normal routines within a few days to a week after the procedure.
All-On-4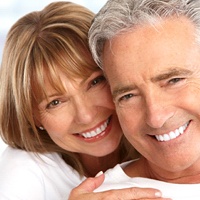 Have you lost most or all of your teeth? Do you wear dentures but feel tired from constantly worrying they will slip when you eat or speak? All-On-4 dental implants can restore your smile to its former glory – even if you have experienced significant jawbone deterioration. A viable alternative to traditional dental implants, All-On-4 implant treatment provides a quick but assured way to restore an entire missing arch of teeth.
Advanced Dental Implant Procedures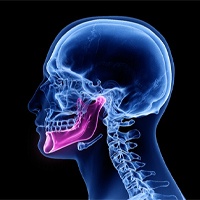 For the dental implant procedure to be successful, it's important to have a healthy and strong foundation to secure your titanium posts. When you visit Dr. Arditti for your initial consultation, she'll examine your mouth and facial structure by taking several digital X-rays. With this information, she'll be able to achieve the best results by thoroughly and accurately planning your treatment, including determining whether you require any preparatory procedures such as a bone graft, sinus lift, or periodontal therapy.