Dental Implants — Huntington Beach, CA
Replace Your Missing Teeth Permanently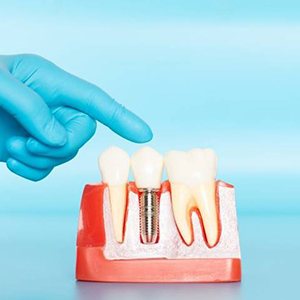 If you suffer from tooth loss, you already know that gaps in your smile are a huge cosmetic problem. However, what many patients with missing teeth don't realize is that those empty spaces also pose a threat to your oral health, overall wellbeing, and quality of life. Once one or more teeth goes missing, it's common for the remaining pearly whites to drift, causing crooked teeth, bite alignment issues, and jaw problems. What's more, tooth loss increases risk of all manner of oral health conditions (like gum disease) and leads to jawbone deterioration!
While you have plenty of tooth replacement options to choose from, only one can help you avoid all these problems and replace your missing teeth permanently: dental implants in Huntington Beach. This state-of-the-art method is widely considered by patients and dentists alike as the gold standard for replacing missing teeth. That's why Dr. Alexandria N. Arditti recommends dental implants for practically any patient looking to rebuild their smile. If you're interested in this life-changing treatment, read on to learn more and call us today to schedule your consultation!
Why Choose Pacific View Dental Group For Dental Implants?
Partnered with Local Specialists for the Best Results
Able to Replace Any Number of Missing Teeth
Flexible Payment Options & Reasonable Fees with No Surprises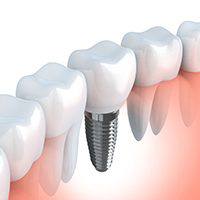 What Are Dental Implants?
A dental implant is a small titanium post that can be placed directly into the jawbone. On top of it is a beautiful, custom-made restoration, which can either be a crown, bridge, or denture depending on how many teeth you're missing. The two components are connected with a small piece called an abutment.
Dental implants are the only tooth loss solution that replicates the entire structure of a missing tooth above and below the gumline. Other options like dentures and dental bridges only replace the visible portion of a tooth, leaving the jawbone vulnerable to deterioration and chewing abilities compromised. With dental implants, bot only will your new teeth have unrivaled stability and comfort, but your jawbone will also be supported, which will help maintain the shape of your face and oral health for many years to come. In short, when you rebuild teeth from the roots up, the result is a smile that looks, feels, and functions just like natural.
The 4 Step Dental Implant Process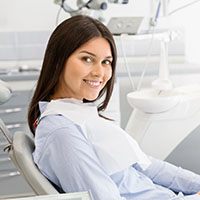 You don't get dental implants in a single visit; it takes multiple appointments spread out over several months before your new teeth are ready. The long-term benefits are well worth the time and effort you invest in them, especially when you have a caring dental team to help you through the treatment. Below is an outline of the 4-step dental implant process; Dr. Arditti will review these steps with you during your initial consultation along with any additional procedures that might be required due to your unique situation.
Initial Dental Implant Consultation
First of all, you need to have a thorough conversation about Dr. Arditti about your need for tooth replacement. Obviously, we'll discuss whether you're a good candidate for dental implants to begin with, which involves evaluating your mouth for bone loss, gum disease, and other conditions that can cause complications with dental implants; if necessary, we may have to schedule a tooth extraction, gum disease therapy, bone grafting, or other preparatory procedures. Once we've determined that you're ready to move forward with the process, we'll take images of your mouth so that the oral surgeon can use them to plan the procedure. The initial visit is also your opportunity to ask questions or voice concerns about your surgery.
Dental Implant Surgery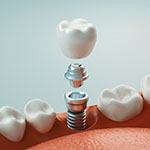 A team-based approach to dentistry makes sure that you have an expert overseeing your care at every stage of the treatment, which is why Dr. Arditti works with trusted local specialists to handle the surgical part of implant placement. Once anesthesia (and possibly sedation) have been applied, small incisions will be made in the gums so that dental implant posts can be inserted. The positions for the implants will be planned in advance to avoid damage to the nerves and other underlying oral structures. Afterwards, the incision is closed, and a protective cap is placed over every implant. It should normally only take a few days to a week to return to a normal routine after surgery.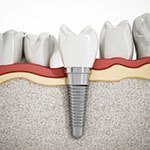 Dental Implant Osseointegration & Abutment
Osseointegration is the name for the process of natural bone tissue fusing with titanium. It's what gives dental implants their stability and strength. This is by far the longest stage of the dental implant process, and it doesn't even take place in the dental chair; you simply have to wait four to six months for your mouth to heal. After a certain amount of time, you'll be ready to receive an abutment, which is a small device that is used to anchor false teeth to an implant.
Delivery of Dental Restoration(s)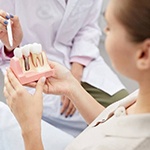 Dr. Arditti can handle the final stage of dental implant treatment: placing the final restoration, which can take the form of a crown, a bridge, or a denture. This is an extremely important step, so we'll always take the time to make sure your new bite feels comfortable and that it properly blends in with the rest of your mouth.
Benefits of Dental Implants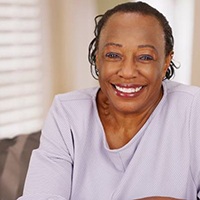 Dental implants in Huntington Beach are widely hailed as the best form of tooth replacement. Because they rebuild lost teeth from the roots up, they offer a range of benefits that other treatments simply cannot measure up to. After your implant-supported teeth are in place, you will notice advantages in your everyday life, and your health could improve. Indeed, you can expect to enjoy the benefits of dental implants for decades to come.
Day-to-Day Benefits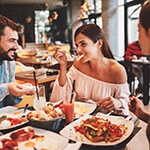 It is estimated that roughly one-third of denture wearers believe that their dentures limit their ability to live life to the fullest. If you can relate to them, the benefits of dental implants in Huntington Beach could be a real game changer. Some of the advantages they provide for everyday life include:
The freedom to eat what you love. Unlike regular dentures, dental implants are extremely sturdy and provide a mighty bite force. They can equip you to eat all of your favorite foods without taking special precautions.
A confident smile. Arditti, your implant dentist in Huntington Beach, carefully designs dental implant restorations so their size, shape, and color are a perfect complement for each patient's natural facial characteristics. You will be able to smile brightly knowing that people are noticing you, not your dental work.
Clear speech. Traditional dentures might slip around in your mouth while you talk, leading to embarrassing moments and difficulty with pronunciation. Because dental implants are so stable, you will be able to speak without worrying about such issues.
Easy oral hygiene. In many ways, caring for dental implants is similar to caring for natural teeth. Brushing and flossing remain as important as ever.
Health Benefits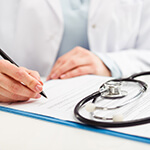 Did you know that tooth loss is associated with an increased risk of cardiovascular disease, diabetes, and even a shortened lifespan? Because dental implants are the next best thing to natural teeth, they may help to lower such risks and enable you to stay as healthy as possible for as long as possible.
Dental implants also offer some outstanding benefits for oral health:
Jawbone preservation. After tooth loss, the jaw begins to deteriorate. Eventually, the deterioration may even change a person's facial shape. Because dental implants act as substitute tooth roots, they stimulate the jawbone and help to keep it healthy, whole, and strong.
No need to modify other teeth. Placing a traditional bridge requires that the abutment teeth be significantly filed down. Implants are self-supporting, so they rarely require that nearby teeth be modified.
Prevent dental drift. It is normal for teeth to drift out of place if a nearby tooth goes missing. Implants and their restorations act as placeholders to keep your teeth where they belong.
Long-Term Benefits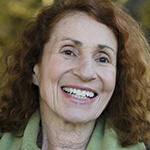 Implants have more than a 90 percent success rate, even 10 years after placement. It is common for them to last for 30 years or longer! Their longevity makes them an excellent monetary value. In fact, over the course of a few decades, they may cost less than forms of tooth replacement that need to be replaced every few years, such as traditional dentures.
Would you like to find out how dental implants may benefit you personally? Contact our team today to learn more about this remarkable treatment.
Who Dental Implants Can Help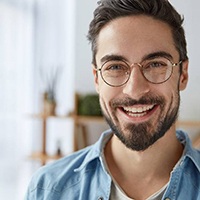 There are currently more than 3 million people living with dental implants today. Because of their versatility, most adults suffering from tooth loss are eligible to receive them. With good general oral and overall health and enough jawbone density, these unique and superior prosthetics can restore your smile and ensure improved functionality for a lifetime. Not only do dental implants look great and feel fantastic, but with the right care, they can last for 30 years or more. At Pacific View Dental Group, our dental implant dentist in Huntington Beach, Dr. Arditti, will examine your smile and determine if you are eligible to move forward with surgery or if you require preliminary treatments to ensure optimal support once your implants are firmly in place.
To see if dental implants are right for you, all you need to do is contact our office for a consultation. In addition to Huntington Beach, we're also easily accessible from Costa Mesa, Newport Beach, and Fountain Valley.
Who is a Good Candidate for Dental Implants?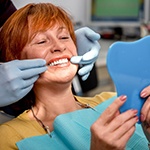 When meeting with Dr. Arditti, she will consider the following three factors and decide if you are free to schedule your dental implant surgery or if you need bone grafting, periodontal therapy, tooth extraction, or any other form of preliminary treatment:
Your Oral Health – You should have no signs of tooth decay or gum disease, as these can cause your implants to fail.
Your Overall Health – You will need to be healthy enough to have minor oral surgery and have no serious health conditions that can weaken your immune system and compromise your implant placement.
Jawbone Density – You will need an adequate amount of bone to ensure proper support for your implants and restoration.
Even if you do not believe you are eligible for treatment, it is best to let us review your oral health and smile. Our experts know what to look for and can help you take the appropriate steps toward enjoying a healthier, longer-lasting smile.
Fortunately, choosing dental implants in Huntington Beach will prove beneficial because they can easily restore all types of smiles, no matter how many teeth are missing.
Missing 1 Tooth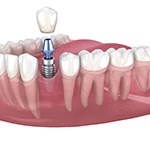 Even one missing tooth can make it much harder to eat and speak with confidence. In fact, there are more than 120 million people who are missing one single tooth. If this is you, Dr. Arditti can replace it using something called an implant crown. She'll attach a strong metal connector to an implant post called an abutment, and this will have the same basic shape and size as the tooth it is replacing. Then, to finalize the treatment, she'll cover it with an all-porcelain dental crown. Dental porcelain is one of the best materials we use in dentistry because it can mimic a natural tooth in almost every way: shape, size, color, strength, and even feel. After a few days, most patients can't even tell the difference between their dental implant and their natural teeth!
Missing Multiple Teeth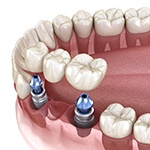 For multiple missing teeth in a row, dental crowns can be fused to create an implant bridge. Two dental implant posts are placed on the exterior while the customized restoration is secured to the top, effectively eliminating the gap in your smile. Not only will this allow for a more pleasing aesthetic, but we will not have to alter your nearby healthy teeth like we would if you were receiving a traditional bride. But even if your teeth are missing sporadically throughout the upper or lower arch, we can create a partial that attaches to two or more dental implants and fits into place like a puzzle piece.
Missing All Teeth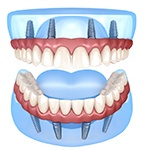 If you are missing multiple teeth throughout your mouth or even an entire arch, dental implants can also be used to support an implant denture. Using just a few strategically placed implant posts, Dr. Arditti can provide a patient with a secure denture that will never slip, slide, click, or pop. Plus, thanks to the jaw support given by the implants, these dentures will maintain their fit for much longer than traditional ones. If you're tired of your denture slipping, you can secure it to your jawbone using dental implants. Implant dentures use four to eight implant posts to support a full denture, which can help you regain nearly 70% of your natural biting force. You can eat your favorite foods again and smile confidently knowing your teeth are anchored in place. You'll enjoy the next best thing to your natural teeth using a solution that can last for a lifetime.
Learn More About Implant Dentures
All-On-4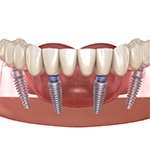 Some patients who have lost all their teeth but don't have enough jawbone density to support very many dental implants can benefit from All-On-4 dental implants. This unique method secures a full denture into place with only four strategically placed implants that are positioned into the strongest part of your jawbone. A viable alternative to traditional dental implants, All-On-4 implant treatment provides a quick but assured way to restore an entire missing arch of teeth.
Understanding the Cost of Dental Implants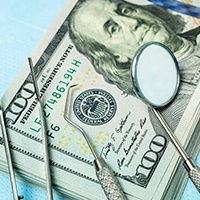 Despite the benefits of dental implants, their cost can be concerning since they are typically more expensive upfront than traditional options, but there's no need to worry. They are more affordable long-term because they should never need to be replaced. Not to mention, you don't need to pay their entire amount at once, giving you more time to pay. We provide you with your custom-estimate during your initial consultation and discuss your payment options to keep your new smile affordable.
Types of Dental Implants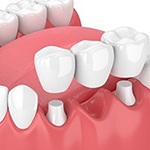 There's no set amount you can expect to pay for dental implants because the cost is determined by your individual treatment plan. There are several factors that influence the amount, like if you need any additional procedures and how many teeth you're replacing. The price will also change depending on the materials used, like ceramic or titanium posts.
The Stages of Dental Implant Treatment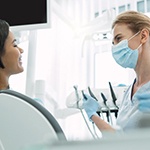 Your treatment process occurs in multiple stages, each with separate costs. As a result, you won't need to cover the entire amount upfront, giving you more time to pay. We explain the fees associated with each phase of your treatment, which may include:
Initial Consultation:You need a consultation to ensure dental implants are right for you. Besides the office exam, you'll need digital X-rays and a CT scan.
Additional Procedures:It's common to need additional procedures before your placement surgery, like tooth extractions, bone grafting, or periodontal therapy.
Placement Surgery:Sedation or anesthesia is used during your placement surgery to ensure your comfort.
Abutments & Restorations:Special fixtures called abutments are needed on each post to connect your restoration.
Are Dental Implants Worth the Investment?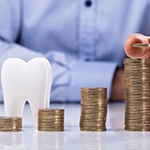 Although they may be more expensive initially, dental implants are an investment because they should never need to be replaced. They have over a 95% success rate to last for several decades to save money long-term.
They also improve your oral health because the implant posts stimulate your jawbone to preserve its density. This stops dental drift to reduce your risk of tooth decay, gum disease, and additional tooth loss. This prevents the needs for a costly treatment down the road.
Does My Dental Insurance Cover Dental Implants?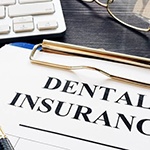 Unfortunately, most dental insurances won't cover the entire cost of the treatment, but they may pay for certain aspects of it until you reach your annual limit. We work on your behalf with your insurance company to reduce the amount you need to pay. We accept a variety of payment options for any remaining balance, including CareCredit.
Advanced Dental Implant Procedures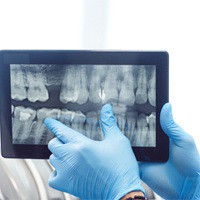 Dental implants boast a 95% success rate because of the thorough and accurate process that takes place over the course of several months. When you first step into Dr. Arditti's office for a consultation, she will conduct a thorough examination of your mouth and facial structure to develop a custom-tailored treatment plan that will provide you with the best results. In order for your dental implants to remain strong, stable, and durable, it's important that your mouth is healthy first. For some patients, we may recommend preparatory procedures such as bone grafting, sinus lifts, or periodontal therapy before scheduling your implant surgery.
Bone Grafting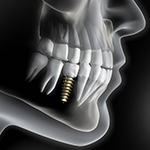 The roots of your teeth provide stimulation and blood flow to your jawbone to make sure it remains healthy and dense. For many patients who are looking into getting dental implants in Huntington Beach, they have been suffering from tooth loss for a while or have only had traditional restorations. Unfortunately, this causes jawbone deterioration, which means that there isn't enough bone to provide the implants with adequate support and stability.
When jawbone density has been lost, Dr. Arditti may recommend getting a bone graft in Huntington Beach to correct the issue before scheduling your surgery. This procedure is done by taking bone from another area of the body or another source and placing it in the areas of your jaw that are lacking in density. After the procedure has been completed and your body has healed, you'll be able to have your implants placed.
Sinus Lifts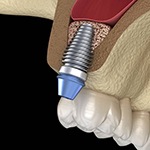 Some patients have teeth roots and nerves that extend through their upper jaw and into their sinuses. This leaves less space for your natural teeth and implants. By taking images of your facial structure, Dr. Arditti will be able to see how low your sinuses fall and may suggest a sinus lift in Huntington Beach. Just like the name suggests, this procedure will involve "lifting" your sinuses to make more space for your implants to be placed. After your healing period, we'll be able to schedule your implant surgery.
Gum Disease Therapy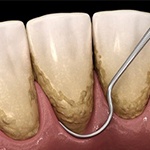 It's important to have a healthy mouth before your implants are placed. Dr. Arditti will conduct a visual examination of your gums and oral tissue to look for signs of inflammation, redness, and swelling, which are all common symptoms of gum disease. Whether you're in the early or late stages of this condition, you'll need to have it treated to reduce your risk of experiencing implant failure after your surgery.
Dr. Arditti offers gum disease therapy to help prevent permanent damage and restore your oral health. By doing this, she's able to ensure that your dental implants have a healthy and strong foundation to be placed in, which allows your new teeth to last longer.
Dental Implant FAQs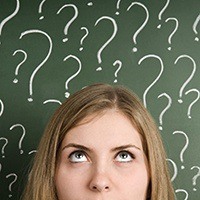 Dental implants in Huntington Beach have been used to successfully replace teeth for decades now. Today, they are now considered the gold standard for tooth replacement. Of course, we understand that you likely have many questions regarding the treatment. That's why we've included a brief section highlighting the most common questions our practice receives! Feel free to look through them before your next visit or dental implant consultation.
Does Getting Dental Implants Hurt?
Dental implants are not painful during placement or after they've been placed. The only discomfort you may feel is after the surgery is complete, but this is not unique to dental implants. Any oral surgery requires a healing period and sufficient rest afterwards. Once the implants have fully healed, you can expect your dental implant to feel almost identical to a natural tooth. You can eat the foods you want, smile with confidence and prevent your jawbone from breaking down and losing strength.
Will People Notice That I Have Dental Implants?
Only if you tell them! The crown portion of your dental implant is made from porcelain, which is indistinguishable from natural tooth enamel. On top of it's incredibly lifelike appearance, porcelain is also more stain-resistant than tooth enamel because it is smoother and contains fewer cracks and crevices for liquids to seep into. As a bonus, porcelain cannot develop decay because it is made from inorganic material. While you'll still need to practice daily oral care and visit the dentist, there's no reason why anyone would recognize your new teeth as dental implants.
Can Dental Implants Fail?
While it is extremely rare, it is possible for dental implants to fail in a few different circumstances. For example, using tobacco during the healing period of your implant treatment will cause your gum tissue to become inflamed. This can cause the implant to fall out or develop a condition known as peri-implantitis. In other cases, a severe oral injury could knock out the implant, but it would require a great deal of force as it is integrated with your bone tissue. Overall, the risk of dental implants failing only reaches about two percent, while the success rate often falls between 95 and 98 percent. You should always get your implant placed by a professional, as any dentist can technically say they place implants even if they lack the needed expertise.
Am I Too Young to Get Dental Implants?
Most people's jaws aren't fully developed until young adulthood. If dental implants are placed before the jaw has finished growing, it can interfere with further bone development and potentially result in complications. This is why most dentists will not place implants in patients younger than 18. Some people's jaws take until their mid-20s to fully develop.
Will I Have to Take Off Work for Dental Implant Surgery?
Most patients only need to take one or two days off in order to get dental implants. However, it is important to remember that every case is different. Before your procedure, Dr. Arditti will recommend how many days you should take off based on your unique case. If your job is physically demanding, you should probably take at least three to four days off, as heavy exercise could divert blood from the implant site and delay healing.
Can I Get Dental Implants If I'm Diabetic?
If your diabetes is under control, your odds of dental implant success are generally comparable to those of nondiabetic patients. Uncontrolled diabetes can slow down the healing process and make it more difficult for your implants to integrate with your jawbone. If you have diabetes but are interested in getting dental implants, talk to your endocrinologist or primary care physician about getting your blood sugar levels under control before moving forward in the dental implant process.
Do I Need a Bone Graft Before Getting Dental Implants?
Bone grafting involves transplanting a piece of bone tissue to the jawbone to strengthen it so that it can accommodate dental implants. Bone loss occurs due to tooth loss because the tooth's roots are no longer stimulating the jaw through biting and chewing. Detailed scans of your jaw area will help us determine whether or not you will need a bone graft before getting dental implants.
Dental Implant Aftercare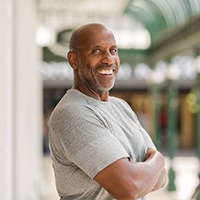 One of the best benefits about dental implants in Huntington Beach is their potential to last for decades. In fact, you can fully expect your newly rebuilt beautiful smile to last you a lifetime! However, that's only if you take care of your dental implants and the rest of your mouth properly. Read on as Dr. Arditti shares a few simple yet important ways you can keep your smile healthy and intact for many years to come.
Make Oral Hygiene a Priority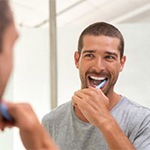 Even though your dental implants aren't vulnerable to tooth decay, you still need to keep them clean if you want them to stay healthy! If plaque and bacteria are allowed to build up in your mouth, they can attack the tissues around your dental implants, which can lead to painful complications. Thankfully, all you need to do to take care of them is to practice a thorough daily dental routine that includes:
Brushing twice a day: Make sure you're spending a full two minutes twice a day brushing your teeth and dental implants, especially along the gumline.
Flossing daily:Whether you use an interdental brush, pre-threaded flosser, or traditional dental floss, it's essential that you clean out the spaces between your teeth every day.
Regularly rinse with mouthwash: Using an antiseptic mouthwash regularly is a great way to clear away bacteria in parts of your mouth that are difficult to reach. However, it should never be used as a substitute for regular brushing and flossing!
Protect Your Dental Implants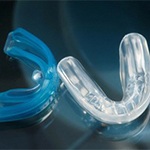 Extra pressure or force on your dental implant can damage the restoration or the tissues around it. Sometimes, it can even loosen the implant or break the post that anchors it to your jawbone! To keep your new teeth safe and intact, keep these tips in mind:
Wear a nightguard if you suffer from bruxism (teeth grinding): Grinding your teeth while you sleep (bruxism) can cause issues like headaches, gum recession, and jaw soreness. As your dental implant is worn down, it may chip or crack. Wearing a nightguard will protect it and prevent the symptoms of bruxism.
Wear a sports guard if you're very active:Playing sports is a great way to stay fit and healthy. Unfortunately, a sudden blow to the face from a ball or another player's elbow can mean big trouble for your dental implant. Keep it from fracturing by wearing a sports guard whenever you hit the field or court.
Schedule Regular Dental Checkups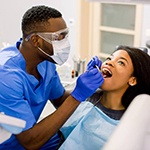 Whether you've replaced one, several, or all of your teeth with dental implants, regular checkups with your Huntington Beach dentist are still important. These regular visits aren't just for polishing your teeth and checking for cavities. They give your dentist a chance to closely inspect your mouth and evaluate how well your dental implant is doing. Your dentist may be able to spot an issue that you can't see or feel yet, then treat it before it causes any unnecessary damage or discomfort. More importantly, regular checkups can help prevent these problems from developing in the first place!
Now that you know how to keep your new smile healthy, you should be able to enjoy it for decades to come. If you find yourself with more questions about taking care of your dental implant, feel free to reach out to us right away!