Cosmetic Dentist in Huntington Beach
Ready To Get Your Dream Smile?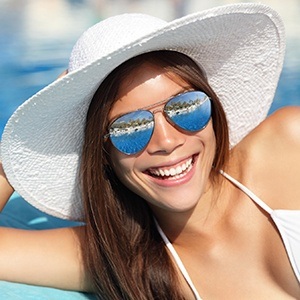 You probably see the results of cosmetic dentistry every day and don't even know it. That's because thanks to the latest treatments, like those offered by Pacific View Dental Group, people are able to get pristinely beautiful smiles that also look completely natural. Dr. Alexandria N. Arditti and our team can do everything from simply whitening your teeth to giving you a complete smile makeover, and we'll always make sure your results work perfectly with your face, skin tone, and personality. Our goal is to create a smile that enhances your appearance, not drastically change it so that you'll always feel confident when you show it to the world.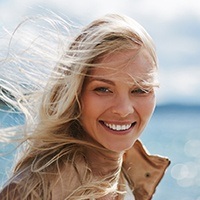 Porcelain Veneers
With just one treatment, we can:
Instantly whiten your teeth
Mask/fix chips and cracks
Close large, obvious gaps
Straighten slightly misaligned teeth
Porcelain veneers are one of the most comprehensive cosmetic treatments available today, and they're the secret behind some of Hollywood's most gorgeous smiles. Each set is completely custom-made, so they can give you everything from a minor touch-up to a complete transformation.
They consist of small, extremely thin coverings made of dental ceramic that is securely fitted to the front of the teeth using a small amount of dental cement. They typically take about 2 visits to get, and our team will work with you throughout the entire process to ensure that you get what YOU consider to be the perfect smile.
When cosmetic dentistry is done right, it doesn't just make a person look attractive, it makes them feel fantastic as well. We always love seeing the look on our patients' faces the first time they see their smile after a cosmetic treatment, and we're sure that you'll be thrilled with what you see in the mirror too. Our goal isn't just to improve you on the outside, but to make you feel great on the inside as well. If you're ready to get the smile you've always wanted, simply contact our office today for a consultation.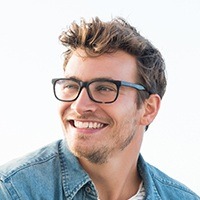 Metal-Free Dental Restorations
We understand that there are two main things to consider when repairing a damaged tooth: strength and aesthetics. Many practices opt to only restore a tooth's strength and apply a metal crown that looks unnatural and completely sticks out in a person's smile. Our practice strives to go beyond this and provide the best when it comes to both restorative and cosmetic dentistry when rebuilding a patient's smile, and that is why we use metal-free restorations.
These all-porcelain crowns, bridges, inlays, and onlays look completely natural and have the strength teeth need to be both reliable and durable for years to come. In the end, the goal is to not just fix your teeth, but make it look like nothing was ever wrong with them in the first place. That's exactly what we can do with metal-free restorations, and with the proper continued care and oral hygiene at home, they can last for 10 years or more.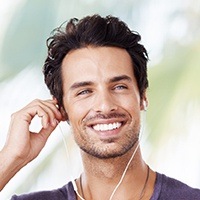 Direct Cosmetic Tooth bonding
If you have a small chip or crack on your tooth, a stain that won't go away, or even a noticeable gap, we can quickly and easily fix it using direct bonding. Dr. Arditti can complete this treatment in as little as an hour, and you'll be amazed at how natural the results look. It starts with her applying a soft composite resin to your teeth, and she'll gradually add layers so she can sculpt away any cosmetic flaws you might have.
After she is finished, she'll harden the resin with a special curing light and let you approve the final result. Your newly repaired tooth will blend in seamlessly with the rest of your smile, and it'll be strong enough that you can enjoy all of your favorite foods with confidence.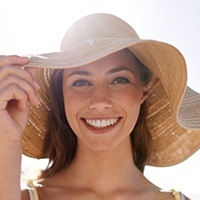 Teeth Whitening
Common things such as coffee, wine, tea, smoking, aging, and even genetics can affect the color of your smile, causing it to look dull, discolored, and yellow. While store shelves are currently filled with take-home whitening products, they tend to be heavy on the promises and light on results. To truly make your smile shine, professional teeth-whitening is the best and safest way to get reliable results.
We actually have two kinds of whitening treatments you can choose from. If you're short on time and want something quick and effective, then we can give you a complete whitening treatment right in our office in about one hour. We'll apply a special whitening gel to your teeth, and after a few applications, your smile will be up to 8 shades whiter before you know it!
Or, if you'd like to whiten your smile more gradually in the comfort of your own home, we can provide you with your own customized kit. With one easy appointment, we can make you a set of mouth trays that will comfortably fit over your teeth and keep our strong bleaching gel right where it needs to be. After just two weeks of daily use, you'll see dramatic results that can easily last for several months.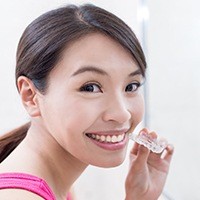 Invisalign®
Are you an adult who wants to finally straighten their crooked teeth, but you can't imagine facing the world with bulky metal braces? Or, are you a parent with a teenager who needs to have their teeth straightened, but you don't want to damage their self-confidence by filling their smile with metal?
In either case, Invisalign is the perfect treatment for you. Rather than using brackets and wires, Invisalign utilizes a series of clear plastic aligner trays to gradually straighten the teeth. Patients love Invisalign because it is practically invisible on the teeth, meaning they don't need to worry about their appearance during treatment. Plus, the trays are also removable, meaning they can take them off whenever they want to eat or brush their teeth.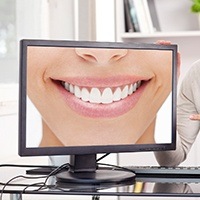 Digital Imaging
We all know that we should have as few x-rays as possible, but at Pacific View Dental Group we ensure that we have the images we need to confirm health of your teeth and bones while preventing unnecessary exposure to radiation.
One way we accomplish this in by using digital radiography. There is less exposure to radiation with our digital system than with traditional x-ray film. Additionally, patients will receive a cavity risk assessment that will help guide how often check-up x-rays should be taken. There is no "one size fits all" policy at Pacific View Dental Group!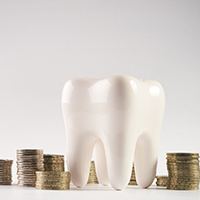 Understanding the Cost of Cosmetic Dentistry
As you might know by now, cosmetic work really helps your teeth. By making them whiter, brighter, and smoother, it gives your smile a beautiful look! However, you might need help with the cost of cosmetic dentistry in Huntington Beach. After all, you wouldn't want your nicer teeth to "break the bank." Fortunately, though, we at Pacific View Dental Group will guide you through the payment factors. In particular, our team will find an affordable option during your consultation. If you'd like to learn more, just keep reading or contact our office!
Which Cosmetic Dental Service is Right for Me?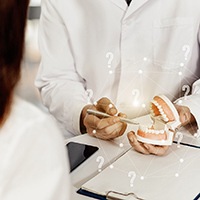 When it comes to cosmetic dentistry, patients usually want one (or more) of three things: whiter teeth, straighter teeth, or differently-shaped teeth. Based on your own preferences, we might suggest some options over others. Common ones are:
Dental Bonding – Often considered the cheapest cosmetic option, dental bonding uses tooth-colored resin to hide smile flaws. Still, the faults covered up are usually minor, and treatment results only last a few years.
Teeth Whitening – Per its name, teeth whitening bleaches tooth enamel quickly and effectively. In exchange for this fast time and moderate cost, though, the service doesn't affect tooth position or shape.
Invisalign – Invisalign uses plastic aligner trays to align crooked teeth. It offers excellent results but tends to be highly-priced.
Metal-Free Restorations – These non-metal crowns and fillings protect your teeth while looking natural. They use high-quality materials, however, meaning they cost more than other services.
Porcelain Veneers – While expensive, veneers can transform multiple aspects of your smile at once. Their porcelain material, more specifically, covers up chips, cracks, and more, even as it blends with your smile.
Cosmetic Dentistry is a Worthwhile Investment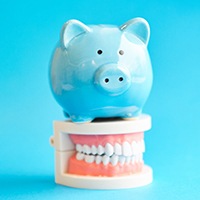 True enough, cosmetic dentistry can feel like a big financial commitment. Even so, it's a truly worthy investment that pays off over time.
For one thing, aesthetic dental work raises your quality of life. Its treatments, you see, can make you confident in your looks by fixing your teeth. From there, you wouldn't feel insecure or nervous around your loved ones. The lack of nerves could also improve your personal and work relationships.
How to Make Cosmetic Dentistry Affordable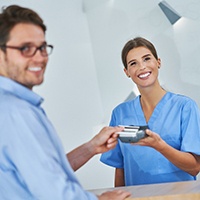 Dental insurance usually won't cover cosmetic dentistry, but other ways exist to make the latter's services affordable. They include:
In-House Membership Plan: For just a low monthly fee, our office can (among other things) give you a 10% discount on non-preventive treatments. That pricing applies to cosmetic dentistry too!
Flexible Financing: Thanks to CareCredit, our office allows patients to pay for care with monthly low-interest installments. That way, you can cover the cost of cosmetic dentistry over time instead of all at once.
To learn more about cosmetic dentistry's expenses, book a visit with Dr. Arditti and our team. We'd be happy to give you a beautiful, budget-friendly smile!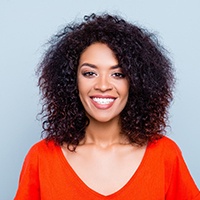 Cosmetic Dentistry FAQs
Reading through the above information is a great place to start if you're in the initial phases of researching your treatment options. If you're interested in learning more, then we encourage you to schedule a consultation with our cosmetic dentist in Huntington Beach. Of course, if you'd prefer to learn a bit more about the process beforehand, that's okay too! Keep reading to learn the answers to a few of the most frequently asked questions about cosmetic dentistry.
Is Cosmetic Dentistry Covered by Insurance?
It depends! Since dental insurance doesn't typically cover elective procedures, like teeth whitening, many patients automatically assume the answer is "no." However, it's worth noting that many treatments that fall under the "cosmetic dentistry" umbrella have preventive and restorative benefits as well, including metal-free dental restorations and Invisalign. Therefore, it's worth double-checking your benefits beforehand. If you need any assistance understanding your dental insurance, our team would be happy to help! Note: if you aren't insured, ask our team about additional options, like our in-house wellness plan and flexible financing.
How Do I Know If I Need Cosmetic Dentistry?
When you're getting ready in the morning, do you look at your smile and wish it was straighter, more balanced, or brighter? Do you hesitate to smile in photos for the same reason? Then you'd most likely benefit from cosmetic dentistry. If you're unsure, then the best thing to do is schedule a consultation. During this appointment, our Huntington Beach cosmetic dentist can learn more about your concerns, take a look at your teeth, and make a few recommendations. That way, you have a clearer picture of your treatment options as well as the benefits a new and improved smile can provide!
How Long Does Cosmetic Dentistry Last?
In short, the results will vary depending on a few factors. The first is the type of cosmetic dental treatment you received. For example, teeth whitening can brighten your teeth for several months with proper care while veneers can last for well over 15 years. The second factor to consider is maintenance. If you smoke, use your teeth as tools to open things, and don't follow a solid at-home oral hygiene regimen, then there is a good chance your results won't last. On the other hand, if you brush and floss consistently, visit your dentist every six months for a dental checkup and cleaning, and follow other good dental care best practices, the lifespan of your results will be extended.
Is Cosmetic Dentistry Worth It?
Absolutely! On the surface, cosmetic dentistry is simply enhancing the appearance of your smile (one of your most noticeable features). However, the positive impact this change can have on your confidence has the ability to benefit both your personal and professional life. With a new and improved grin, you will have the confidence to smile for photos, first dates, interviews, and more. So, don't hesitate to invest in cosmetic dentistry – it's an investment in your smile and yourself!