All-On-4 Implants – Huntington Beach, CA
A Fast Route to a New Smile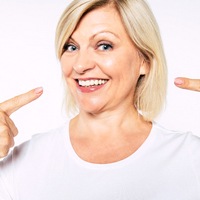 Many patients who have been missing most or all their teeth for quite a while and want to get traditional dental implants just do not have a sufficiently strong jawbone left. Fortunately, All-On-4 implants offer an alternative route to long-lasting smile restoration. At Pacific View Dental Group, Dr. Alexandria Arditti helps patients reclaim a confident smile with this quick and hassle-free treatment.
How Do All-On-4 Implants Work?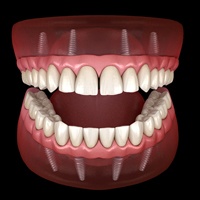 All-On-4 implants utilize just four strategically-placed implant posts to support a full arch dental prosthetic. The implants are usually inserted at an angle in the front of the mouth, where the jawbone is naturally dense. By maximizing the bone-to-implant ratio, All-On-4 implants provide excellent support for a new smile.
All-On-4 restoration is completed in several steps:
First, an oral surgeon will clean the site and then surgically insert four implants in the jawbone below the gum line.
Next, the healing period begins. You will be provided with a lightweight temporary denture to wear for the next few months while the implants fuse with the jawbone.
While you heal, your custom artificial teeth will be crafted in a high-quality dental laboratory.
After a few months, we will welcome you back so Dr. Arditti can place your new teeth on top of the All-On-4 implants
Am I A Candidate for All-On-4 Implants?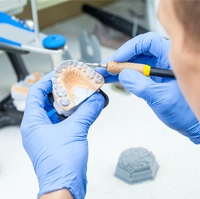 You may be a good candidate for All-On-4 in Huntington Beach if you:
Practice excellent oral hygiene at home
Do not frequently use tobacco
Are missing most or all of your teeth
Do not have sufficient jawbone density to support a large number of dental implants
Currently wear dentures and want a more permanent solution
To find out of this treatment is right you, visit our conveniently-located office for an initial consultation with Dr. Arditti.
What Are the Benefits of All-On-4 Implants?
All-On-4 dental implants offer a number of distinct benefits, such as:
Improved appearance: By replacing both the visible portion of the tooth and the tooth root structure, All-On-4 implants appear nearly identical to natural teeth.
No bone grafting: By strategically placing All-On-4 implants in the bulkiest areas of the jaw, patients can avoid the need for bone grafting.
Short recovery time: It's simple – less implants placed translates into a shorter healing period.
Lower cost: Compared to traditional implants, fewer appointments are required. This saves you time and money!
Long-lasting results: With proper care, All-On-4 implants can last for decades!
All-On-4 VS Traditional Dental Implants
While traditional dental implants in Huntington Beach remain an excellent tooth replacement option for many men and women, some patients just do not have the jawbone depth and strength to support the 8 or more implants necessary to replace an entire arch of missing teeth.
All-On-4 implants, on the other hand, can deliver a confident, full smile with half the number of implants compared to traditional implant treatment and without painful bone grafting. The simple and effective procedure can typically be completed in just one to two visits to an implant dentist in Huntington Beach!
All-on-4 FAQs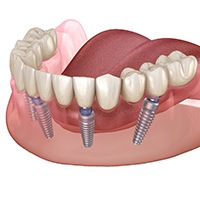 When you call Dr. Arditti to schedule an All-on-4 consultation, you should use the time before your appointment to put together a list of questions or concerns you have about the treatment. Getting these answers at the very beginning of the process will make it much easier for you to make crucial decisions later down the line. Of course, you might feel better knowing some of this information before you even walk into our office; on this page, you'll find the answers to some of the most common questions that our patients have brought to us.
Exactly How Long Will the All-on-4 Process Take?
When getting dental implants, you can expect to make multiple appointments spread out over the course of several months. While All-on-4 does allow you to get new teeth sooner, you'll still need to plan to return to our practice multiple times before you receive your permanent teeth. Normally, we'll schedule the implant placement as soon as possible as soon as an initial consultation is complete; after that, the length of the process depends on how quickly your mouth heals. We should be ready to take impressions about four months after the surgery, and you'll receive your permanent dentures at the six-month mark. (Of course, this timeline varies from patient to patient.)
What's the Difference Between Temporary Dentures and Permanent Ones?
Your temporary teeth will be made out of an acrylic resin, while the permanent dentures are either made of acrylic or porcelain. The most noticeable difference, however, is the weight; permanent dentures would put too much stress on implants that haven't fully integrated with the mouth yet, but temporary ones can usually be placed in the mouth right away. Also, you need to keep in mind that until you receive your permanent dentures, you should stick to foods that could be easily cut with a fork or ones that do not have to be torn with the front teeth.
How Successful is All-on-4?
Careful planning and modern techniques have made implant placement more reliable than ever, and All-on-4 is no exception; the procedure currently has around 97 or 98 percent success rate. With that in mind, there are no risk-free surgeries. Before the implants are placed, we need to evaluate your overall oral health and consider different factors – including gum health, your general oral hygiene habits, and whether or not you use tobacco products – before we start putting together a treatment plan.
Do I Need to Get Implants on Both Arches?
This is definitely one question where the correct answer will vary from person to person. If, for example, you've lost your lower arch of teeth but have kept most or all of your upper arch, you'll only need the All-on-4 treatment for the lower jaw. Of course, it's completely possible for both arches to receive implants at once if absolutely necessary. We'll discuss your situation in greater depth during your consultation so that you can decide whether or not your entire mouth needs the All-on-4 treatment.