Invisalign – Huntington Beach, CA
Get on a Path Towards a Straighter Smile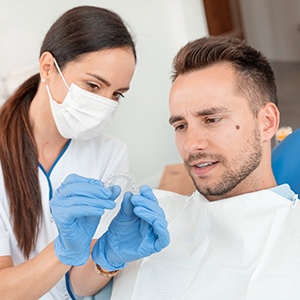 Are you ready to invest in a beautiful, straight smile? Invisalign in Huntington Beach gives you a discreet and convenient solution to accommodate your lifestyle. These are clear braces, so you don't have to rely on metal brackets and wires to straighten your teeth. If you want to get on a path towards a straighter smile, contact us to schedule a consultation with Dr. Alexandria Arditti. This way, you can find out if Invisalign is right for you!
How Invisalign Works
Unlike standard orthodontics that use visible and cumbersome metal parts to move your teeth into alignment, Invisalign uses clear plastic mouth trays made of BPA-free plastic. Each tray fits tightly over your teeth in order to apply firm but gentle pressure. You will wear each set of aligners for approximately two weeks before moving on to the next one. Patients of all ages report that they get used to the feeling of their Invisalign aligners in just a few days. Over time, your teeth will gradually more to their new, aligned locations. As opposed to traditional braces, you won't need to have anything tightened, but you will still need to come to the office to make sure your treatment is going as planned.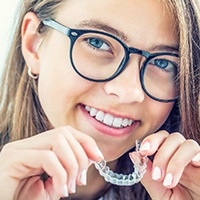 Indications for Invisalign
Invisalign is able to correct a variety of different alignment issues. Here are some of the more common ones that we see:
Crowded Teeth
As for teeth that have become crowded and are overlapping, Invisalign is often the ideal solution. Clear aligners apply gentle pressure on different parts of the teeth to shift them to their aligned positions. This helps to lower your risk of cavities, gum disease, and other problems that are common in people who have overcrowded teeth.
Gaps Between Teeth
When the teeth are too far apart, gaps can become apparent. They also put you at a much higher risk for oral health problems and tooth damage because food debris and plaque become easily trapped and more difficult to remove. Invisalign can move your teeth to be the perfect distance apart.
Bite Alignment
If your bite isn't aligned correctly, you are more likely to develop problems, like temporomandibular joint (TMJ) disorder and bruxism (teeth clenching and grinding). Invisalign is effective when it comes to correcting overbites, underbites, crossbites, and more!
Benefits of Invisalign
Invisalign in Huntington Beach combines effective treatment with convenience and aesthetic appeal. Really, it is the ideal treatment for patients who want to straighten their teeth without most of the drawbacks of traditional metal braces. Would you like to learn more about the many benefits of Invisalign? Continue reading below.
Discreet Appearance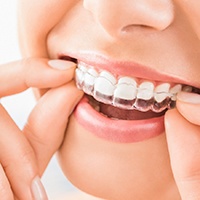 Invisalign draws its name from the fact that it features a discreet appearance, meaning that it is popular among both patients and cosmetic dentists in Huntington Beach. Although it does not completely disappear on the teeth, it also does not call a lot of attention to itself. Onlookers are more likely to notice your charming smile than they are to notice your orthodontic treatment. (Some Invisalign accessories are more visible than the aligners themselves, but they are still designed to be as subtle as possible.)
No Dietary Restrictions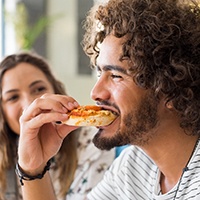 Wearers of traditional braces have to adhere to a laundry list of dietary restrictions. Things like pizza crust, gummy candies, and more are all off-limits. Invisalign is different. Because the aligners are removable, you can simply take them out of your mouth at mealtimes and enjoy whatever foods you are craving. Then, all you have to do is clean your teeth, rinse your aligners, and put Invisalign back in your mouth.
Simple Oral Hygiene
With traditional braces, special oral hygiene tools are required to thoroughly clean around the brackets and wires. Maintaining a clean mouth is easier with Invisalign. You can brush and floss using the same techniques that you have used for years. You may have to clean your teeth more often than you are used to, but most patients adapt to their new routine fairly quickly.
Comfort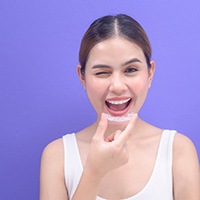 Any type of orthodontic treatment will cause a degree of soreness as it applies pressure to the teeth; Invisalign is no exception. However, it is exceptionally comfortable due to its smooth plastic construction and precise fit. There are no metal parts to irritate your cheeks or tongue. Plus, there is no wire that could pop out of place and cause sores.
Efficient Treatment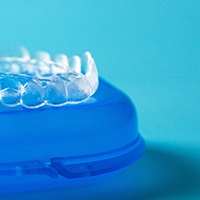 The average treatment time with braces is anywhere from 18 to 36 months. For most patients, their time with Invisalign is much shorter, averaging just 12 months. Of course, your treatment may require more or less time depending on your unique circumstances. When you attend your consultation, your dentist in Huntington Beach will be able to give you a timeline estimate for Invisalign.
Would you like to discover how Invisalign may be able to benefit you personally? Request an appointment with our friendly, skilled team today.
Understanding the Cost of Invisalign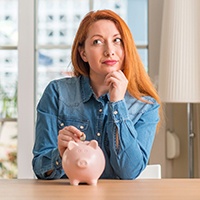 It is often thought that Invisalign in Huntington Beach is too expensive for the average person. However, that is far from true. In fact, the overall treatment usually costs around the same amount as traditional braces. Since the total price is determined by your unique case, it's impossible to provide you with an accurate estimate until you come in for an exam. During your consultation, our team at Pacific View Dental Group will explain which factors influence the cost of Invisalign and how our financing options can help you manage your dental bills with ease.
Factors that Affect the Cost of Invisalign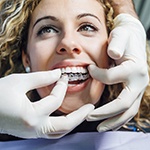 Several factors influence the total cost of Invisalign in Huntington Beach, such as:
The number of aligners you need. This depends on the extent and type of dental misalignment you have.
Whether you're straightening one arch or both. Logically speaking, straightening both the upper and lower teeth will cost more than straightening just one or the other.
Your treatment compliance. Losing an aligner means you'll have to pay for a replacement.
Whether you need additional accessories. Some patients need elastics or other accessories to ensure successful treatment.
Invisalign vs. Smile Direct Club™: Which Costs More?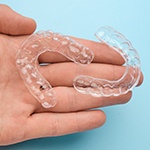 Patients on a budget may be tempted to opt for do-it-yourself clear aligner treatments like SmileDirectClub™. They usually cost around $2,000, while Invisalign can run anywhere between $3,000 and $8,000. Even though DIY methods are certainly more affordable, it's crucial to remember that you get what you pay for.
With that in mind, here are some distinct differences between Invisalign and SmileDirectClub™:
DIY aligners are often made out of cheap plastic, meaning they're more likely to get damaged and need a replacement much sooner than anticipated. Meanwhile, Invisalign uses a patented material designed for comfort and efficient tooth movements.
Some users claim that the DIY aligners have been ineffective or worsened their dental misalignment. Invisalign has consistently proven to be successful.
One of the biggest disadvantages of DIY aligners is that they come with little to no oversight from a dental professional. On the other hand, you can enjoy the trusted oversight of Dr. Arditti every step of the way on your Invisalign journey.
Does Dental Insurance Cover Invisalign?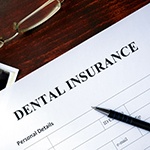 Most dental insurance plans cover a portion of the cost of Invisalign if you have orthodontia included in your policy. Our office works on your behalf with the insurance company to reduce the amount you need to pay out-of-pocket. To cover the remaining balance, we accept a variety of payment options. You can also use your FSA or HSA to pay for your treatment instead.
Options for Making Invisalign Affordable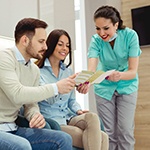 Don't have dental insurance? No problem! We offer additional financing options to make your dental bills easier to manage. Some of those include:
In-House Health and Wellness Plan – For an affordable price, you can enjoy all the benefits of dental insurance without the annual maximums or waiting periods. Not only will you have access to regular preventive dental care, but you can get a discount on other services like Invisalign.
CareCredit Financing – This option allows you to break up the total cost of your care into smaller monthly payments. Plus, there are no upfront costs, annual fees, or prepayment penalties.
Are you ready to start your Invisalign journey? Give our office a call and schedule your consultation today! We'll create a treatment plan that'll help you achieve the smile of your dreams in record time while keeping your total expenses as low as possible.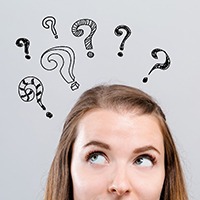 Invisalign FAQs
It pays to be well-informed when it comes to making decisions on the future of your smile. Here are the answers to some of the most common questions that Dr. Arditti hears. If your question isn't listed, feel free to contact the office directly. We'd be happy to provide you with the information that you're looking for and get you started with an initial consultation!
How Do I Know if Invisalign Is Right for Me?
Thanks to continued innovation and advancements with clear aligner technology, Invisalign has been becoming increasingly accessible to a wider variety of patients. Both teenagers and adults can benefit from a clear aligner system as long as they have good overall oral health and healthy gums. Both simple and complex misalignment and bite issues can be treated using aligners.
A bigger issue is patient compliance. If you struggle to wear the aligners for the minimum of 22 hours a day, then more traditional braces may be better for you. Invisalign Teen includes discreet blue dot indicators that help patients confirm if they're wearing them for long enough.
Does Invisalign Actually Work?
Invisalign has helped more than 5 million people transform their smiles with aligners. One million of these people are teens. The system has been around for more than two decades, making it the most experienced and advanced clear aligner system in the world. They also utilize SmartTrack material to help you shift teeth more predictably, ensuring a more successful treatment. Overall, Invisalign has a great track record for helping people straighten their smile and fix uneven bites.
How Do I Care for My Aligners?
The most effective way to keep your aligners clear and smelling fresh is to use Invisalign's cleaning crystals. While these can be bought from Dr. Arditti directly, they can also be found online. After soaking them for at least 15 minutes, use a toothbrush to remove loose food debris and excess plaque. This will keep them smelling fresh and prevent staining.
Keep in mind that richly pigmented foods can stain aligners if they remain on your teeth, so either rinse your mouth out or brush and floss before wearing them. Keep them in their dedicated case when not in use. Do not use hot water to clean your aligners as this can permanently warp them, making them unusable.
What Happens After Treatment?
In order to prevent your teeth from shifting back into their crooked position, you'll need to wear a retainer after completing treatment. You'll wear the retainer at all times at first, similar to how you wore your aligners. Once Dr. Arditti confirms your teeth are secure, you can switch to only wearing your retainer at night. This step is crucial to making sure you don't lose any of the progress you worked so hard to obtain.
Does Invisalign Hurt?
To be honest, all orthodontic treatments come with some soreness. After all, your teeth are being moved into completely new positions! The good news is that any discomfort that does arise should subside shortly after transitioning to your new trays. Plus, there are a few measures you can take in the meantime, like sipping on cool water, sticking to soft foods, using a cold compress, and taking OTC pain medication as directed.
How Long Does Invisalign Take?
Although the average Invisalign treatment is between 12 and 18 months, your timeline could be shorter or longer than that. It really boils down to important factors like the complexity of your misalignment, how long you'll need to wear each set of trays, and how well you follow the guidelines given to you (like wearing your aligners for 20+ hours a day).
Can You Eat with Invisalign?
Fortunately, you don't have to change your diet with Invisalign; there aren't any dietary restrictions! However, as your dental team, we still recommend taking a few precautions to keep your teeth healthy, including keeping your consumption of sugary foods and drinks to a minimum. It's also of the utmost importance that you don't eat anything with your aligners in. This can cause them to warp, rendering them virtually useless.
What Are Invisalign Attachments?
When patients think of Invisalign, they often imagine the clear aligners. However, there are some cases where additional "accessories" need to be added to your treatment plan, like attachments. These are small pieces of tooth-colored resin that are bonded to the front-facing surface of your teeth. This gives your trays something to grip onto, helping move more moderately misaligned teeth into their ideal positions.
Can You Get Invisalign After Braces?
Sometimes! In fact, "hybrid treatment" often refers to the combination of traditional braces and Invisalign. Plus, there are countless patients who had metal braces as a kid and are now interested in a more discreet teeth-straightening solution to address orthodontic relapse. In short, if you're interested in Invisalign, schedule a consultation with our Huntington Beach dental team – it's the easiest way to find out if you're a candidate for clear aligner treatment!
What if My Invisalign Broke?
If one of your aligners breaks, there are a few things you shouldn't do, like wear them. If the damage is significant enough, it can cut the soft tissue in your mouth and even move your teeth into the wrong positions. That's why we recommend reaching out to us instead. Once we have a better idea of the extent of the damage and where you are in your treatment timeline, we can determine what the best course of action is to avoid adding weeks or months to the backend of your treatment.