Preventive Dentist Protects Huntington Beach Smiles
Is It Time For Your Checkup?
Prevention is a huge part of our approach here at Pacific View Dental Group. We'd rather stop a dental problem before it starts rather than have to fix it later. With preventive checkups each year, we can give you and everyone in your family a worry-free smile that always looks clean, healthy, and feels fantastic. Plus, our team will even take the time to share helpful tips so you can take better care of your teeth at home.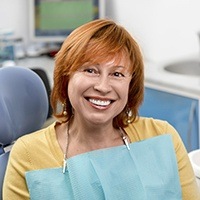 Dental Checkups & Cleanings
When it comes to keeping your smile healthy year after year, nothing does it better than a routine dental checkup and cleaning. These two treatments are excellent for making your smile look and feel great from January to December, and they're often able to address small dental problems before they can become a real headache.
For a dental cleaning, we will use sophisticated tools to clear away plaque and bacteria that have built up on your teeth and gums. This cleaning is able to reach tiny areas in your mouth that you simply can't at home, so they are essential even if you brush and floss every day!
Dr. Alexandria N. Arditti will provide a thorough oral exam where she'll check for common dental problems such as tooth decay, cavities, gum disease, oral cancer, and more. This will give her a chance to catch any issues you might have early so she can take care of them with quick, easy, and conservative treatments.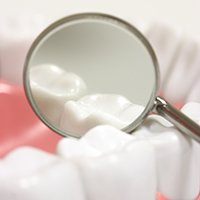 Dental Sealants
Do you have a child at home who is still learning to brush? If so, it's likely that they aren't cleaning their back teeth very well simply because they can be very hard for small hands to reach. To give them an extra bit of protection right where they need it, we can apply something called a dental sealant.
For this, we'll simply paint on a thin layer of a plastic-based substance on the teeth to prevent plaque and bacteria from accumulating on them, effectively preventing tooth decay and cavities. They'll help give you peace of mind while your little one is still learning to take care of their teeth!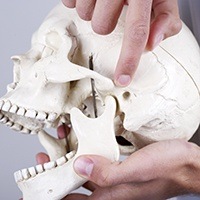 TMJ / Bruxism Therapy
Do you have a stiff or sore jaw that clicks, pops, or even gets stuck occasionally? Is it particularly sore in the morning? If so, you may have a strained or injured TMJ (temporomandibular joint), which is the set of small hinges that connect your jaw to your head and allows it to move smoothly whenever you eat or speak. TMJ issues often lead to a condition called bruxism, which is where a person unconsciously clenches and grinds their teeth at night. Dr. Arditti will always examine the health of your TMJ during your regular checkups, and if she sees any signs of trouble or teeth grinding, she will work with you to help relieve your pain and protect your teeth.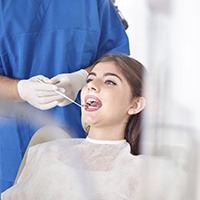 Oral Cancer Screening
Nearly 50,000 people will be diagnosed with oral cancer this year, and many will not survive the next 5 simply because the disease was caught too late to be successfully treated. The early signs of oral cancer are easy to miss, which is why it is important that you get a screening at least once a year.
To make sure you and your loved ones are never caught off guard by this disease, Dr. Arditti will always perform an oral cancer screening as part of your regular checkup. She'll visually examine your lips, gums, tongue, cheeks, throat, and neck for any signs of the disease. Should she find anything that causes concern, she can advise you on what to do next so you can take quick action.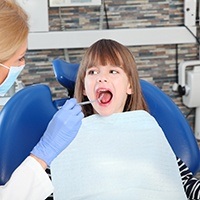 Children's Dentistry for Huntington Beach
If you have a little smile at home, then we'd love to meet them! We really enjoy having children around the office because we know by seeing a dentist at an early age, it's much easier for them to develop habits that will keep their smile healthy throughout their entire life.
We have an array of treatments that are specifically tailored for children, and our team will perform every treatment with a gentle touch. We understand that a dental office can be a bit of a scary place for a child, so we'll always go at their pace and let them take breaks when needed. In the end, we'll make sure that your child learns about their smile while we help keep it clean, healthy, and bright.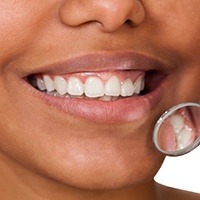 Gum Disease Therapy
Gum disease is actually the most common dental problem in the entire world, affecting about 50% of the US adult population right at this very moment. It starts with subtle symptoms like red, swollen, or puffy gums that bleed when you brush, but it can eventually develop into the leading cause of tooth loss. Plus, ever growing research is revealing that gum disease is actually a common risk factor for serious health conditions such as diabetes, heart disease, and even dementia!
Dr. Arditti and our team will always examine your gums whenever you come to see us. If we see any signs that you have the infection, we'll do everything we can to treat it immediately and make sure that it doesn't come back in the future.
All it takes is just two easy appointments each year to have a healthy and beautiful smile. Your oral health is certainly worth that kind of time, right? To schedule your next appointment, simply contact our office today. In addition to Huntington Beach, we're also easily accessible from Costa Mesa, Newport Beach, and Fountain Valley.