Porcelain Veneers Perfect Huntington Beach Smiles
Not happy with some aspect of your smile? You're in good company. Many patients visit Pacific View Dental Group who don't like their tooth color, spacing, or shape. However, they believe that the only way to get a beautiful smile is to undergo complex cosmetic dentistry plans. Our skilled Huntington Beach dentist and team have great news for these patients. Your smile makeover plan may be as simple as visiting us two times for treatment with conservative, porcelain veneers. If you want to find out more, call to schedule a cosmetic dentistry consultation in our Huntington Beach Dental office. We'll review your treatment options and help you find the best solution to create flawless smiles.
What are Porcelain Veneers?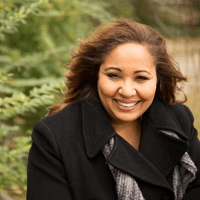 Veneers are thin sheaths of dental grade porcelain. They are fastened to the front surfaces of teeth to conceal numerous smile flaws. We can use veneers to transform smiles while preserving healthy, natural tooth structure. Your porcelain veneer plan may include top teeth, bottom teeth, or both. We can craft veneers for just a few teeth or for several in a row. These smile makeover plans are highly customizable.
Who Should Consider Porcelain Veneers?
Any patient who wants to transform their smiles without spending years or months undergoing more advanced treatments may want to consider porcelain veneer smile makeovers. These cosmetic treatments can be used to improve the appearance of smiles with chips, cracks, stains, and gaps.
How Are Porcelain Veneers Placed?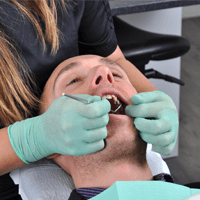 Veneers are placed in two appointments. During the initial visit, we need to prepare teeth by removing a small amount of surface tooth structure. This allows the porcelain veneers to lay flat without changing the natural smile line. Then, we capture bite impressions that will be used to design and craft your custom veneers. Finally, we place temporary veneers to protect your prepared smile and allow you to get used to the look and feel of porcelain veneers. When we receive your final veneers from the lab, you'll return to exchange the temporaries for your flawless custom crafted porcelain veneers. This second visit is short and sweet. We simply remove your temporaries and place the custom restorations. If you're happy with the appearance of your veneers, you're all done. In rare cases, patients ask us to make adjustments. In these cases, we'll need to replace a temporary, so the lab can make adjustments to your custom porcelain veneer.
Do I Need to Care for Veneers Differently?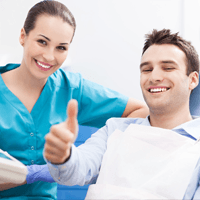 Unlike other treatment materials, porcelain is stain resistant, so your smile will look and feel great for years. For the most part, you can continue your daily brushing and flossing. However, it's important to use soft bristled toothbrushes and minimally abrasive toothpaste to avoid wearing away the porcelain. This will extend the life of your veneers. You can also use waxed floss or water flossers to avoid pulling on the restoration. Additionally, you need to visit our team at least every six months. We'll examine your veneers during each appointment and make repairs as needed.