Veneers – Huntington Beach, CA
Completely Conceal Chips, Cracks, and Other Cosmetic Flaws
Unhappy with some aspect of your smile? You're not alone. In fact, many patients visit Pacific View Dental Group because they don't like the color, spacing, or shape of their teeth. Fortunately, our skilled cosmetic dentist in Huntington Beach has an answer: veneers. With this sought-after cosmetic dentistry treatment, you can completely conceal chips, cracks, and other cosmetic flaws – in as little as two visits too! To find out more, keep reading or give us a call to schedule your initial consultation.
What Are Veneers?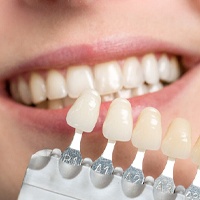 Veneers are thin sheaths of dental-grade porcelain that can be fastened to the front surfaces of teeth to conceal numerous smile flaws. As a result, we can transform smiles while preserving healthy, natural tooth structure! Plus, their versatility allows us to craft veneers in Huntington Beach for just one tooth or an entire arch. That way, your smile makeover is completely customized, seamlessly making your smile goals a reality.
The Process of Getting Veneers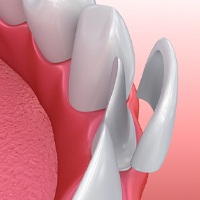 Typically, veneers are placed in two appointments. During the initial visit, we need to prepare teeth by removing a small amount of surface tooth structure. This allows the porcelain veneers to lay flat without changing the natural smile line. Then, we capture bite impressions that will be used to design and craft your custom veneers. Finally, we place temporary veneers to protect your prepared smile and allow you to get used to the look and feel of porcelain veneers. When we receive your final veneers from the lab, you'll return to exchange the temporaries for your flawless custom-crafted porcelain veneers. This second visit is short and sweet. We simply remove your temporaries and place the custom restorations. If you're happy with the appearance of your veneers, you're all done. Although rare, patients sometimes ask us to make adjustments. In these cases, we'll need to replace a temporary, so the lab can make adjustments to your custom porcelain veneer.
The Benefits of Veneers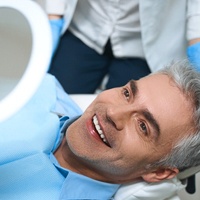 Veneers are a highly sought-after cosmetic dental treatment due to the numerous benefits they come with, including:
Lifelike appearance – Since they are custom-made for each patient, the results can be as natural or dramatic as you like. Plus, the high-quality porcelain comes in a variety of tooth-colored shades and is incredibly durable.
Longevity – Unlike other cosmetic dental solutions, veneers can last for 10+ years with proper care!
Stain-resistant – Since veneers are stain-resistant, you won't have to worry about staining and dental discoloration over the years.
Corrects multiple cosmetic dental flaws – Instead of having to undergo back-to-back treatments, you can use veneers to address everything from minor misalignment to permanent discoloration simultaneously.
Easy maintenance – Caring for your veneers doesn't require special cleaning products or an extensive dental hygiene routine. You can keep them in pristine condition with the same best practices you use to keep your natural teeth happy and healthy!
Porcelain Veneer FAQs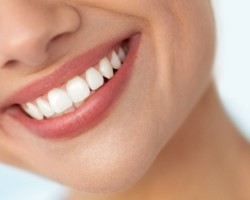 If you're embarrassed by your teeth, you can fall in love with your smile using porcelain veneers in Huntington Beach. They are a minimally invasive solution to enjoy beautiful results; however, it's normal to have a few concerns before you're ready to commit to them. We'll explain the process and address any questions during your initial consultation. In the meantime, your cosmetic dentist has the answers to a few of the most common questions they are asked to help ease any apprehensions.
How Many Porcelain Veneers Will I Need?
A veneer can be bonded to a single tooth; however, we often recommend placing them on the front 2, 4, or 8 teeth because they are the most visible when you smile. This helps to create a more seamless appearance for more natural-looking results.
Will I Need Gum Contouring?
We may also recommend gum contouring for patients who are interested in porcelain veneers. The treatment removes excess gum tissue to reveal more of a tooth's surface. This might be necessary if you have a "gummy smile" because it will create a larger surface to bond the veneer. If you have an uneven gum line, contouring it will add the final touch to your new smile. Although gum contouring and veneers often go hand-in-hand, not everyone needs both procedures. We'll evaluate your smile and discuss your aesthetic goals to create a customized treatment plan.
What Happens If a Porcelain Veneer Breaks?
Veneers are thinner than ever, but they are still durable. In fact, they can last for a decade or longer with the right care; however, they can break or fall off over time. You can help to ensure your new smile lasts by keeping a few tips in mind:
Brush your teeth at least twice a day using a soft-bristled toothbrush and nonabrasive toothpaste.
Use a high-quality dental floss to clean between each tooth daily.
Wear an athletic mouthguard if you play sports.
Don't use your teeth as tools.
Don't chew on inedible objects.
Visit your dentist at least twice a year.
If a veneer cracks or comes loose, we can easily replace it to restore your beautiful smile.
How Much Do Veneers Cost?
There isn't a set price for veneers because their cost is based on your individual treatment plan. There are various factors that influence the price, like the number of teeth you're treating and if you need any additional procedures. We'll provide you with a custom estimate during your initial consultation and discuss the costs associated with your treatment.
We will explain your payment options to keep your dream smile affordable, like using third-party financing. We accept several payment methods to help patients from all walks of life invest in a beautiful smile.
How Can I Get Started?
If you're ready to achieve the smile of your dreams, take your first step toward improved confidence by contacting our office. We'll schedule you for your initial consultation with your dentist in Huntington Beach to begin the transformation process.