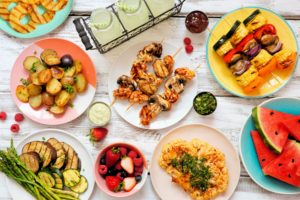 Summertime is here with all its usual fanfare, and that includes family gatherings and backyard barbecues! You want to enjoy the incredible foods and treats on the menu, but might be worried about how they will impact your dental implants.
Dental implants are one of the best solutions for replacing damaged or missing teeth because their structure mimics the root and crown of your natural teeth. Furthermore, three to six months after placement they actually attach to the jawbone which gives your mouth the stimulation and support it needs to stay healthy and strong.
You don't want to put the health of your implants at risk this summer by doing or eating something that might damage or dislodge them! Continue reading to learn about what foods to avoid until they are fully fused.
Corn on the Cob
Corn on the cob is popular at summer cookouts, but the kernels are notorious for getting wedged between your teeth. This is true with replacement teeth, as well. To prevent potential damage to both teeth and dental implants, cut the corn off the cob then eat it with appropriate utensils.
Hot Dogs
Sorry to disappoint, but hot dogs are also on the list of foods to stay away from! They are full of saturated fat which can lead to gum inflammation, or even gum disease, down the road. Gum disease can damage the tissues that help hold your dental implants in place, leaving them vulnerable to failure. Feel free to enjoy a hot dog here or there, but try to minimize consumption.
Sugary Drinks
Sodas, fruit juice, and other sugary beverages can be especially damaging to your teeth. Although you don't need to worry about decay with implants, the sugar and acidic ingredients can attract bacteria that infect your gums. This can ultimately loosen your implants. To reduce the possible risk, use a straw to minimize contact with your teeth. To be especially safe, reach for water instead!
Along those lines, be aware that barbecue sauces also contain sugar or corn syrup that can pose problems! Though it is particularly difficult to skip at barbecues, doing so can keep your replacements healthy and preserve your remaining natural teeth.
Hard Foods
Certain foods that are difficult to bite or chew can damage your implants as they are still fusing with your jawbone. Be careful when consuming the following if your dental implant placement surgery was four or fewer months ago:
Chips
Nuts
Apples
Raw vegetables
What Can I Eat?
All is not lost! Dental implants are incredibly strong, so there are plenty of foods you can feel free to enjoy this summer. However, if you want to make the most out of your new teeth, choose softer options like:
Eggs
Potatoes
Chicken, fish, and ground beef
Dairy
These selections are safe and enjoyable alternatives to what you might otherwise feel you're missing out on!
Even though you may want to let loose and enjoy all the delicious foods this summer, steering clear from certain culprits helps to ensure that your implants get the time they need to properly bond with your jaw. Once they do, you can look forward to enjoying these and all your other favorite foods to your heart's content!
About the Author
Dr. Alexandria N. Arditti at Pacific View Dental Group has been providing patients with comfortable, modern care since 2017. She earned a BS in health promotion and disease prevention studies, as well as a BA in medicine and biological sciences, at the University of Southern California. She then earned her doctor of dental surgery from Herman Ostrow School of Dentistry at USC. If you are suffering from tooth loss and would like a consultation, feel free to reach the office on the website or by calling (714) 592-4294.