Inlays & Onlays – Huntington Beach, CA
Rehabilitate Your Damaged Teeth Today
Your teeth can last for a lifetime with the right care over the years. Unfortunately, many teeth are compromised by cavities. Often, decay can be treated using a simple tooth-colored filling, but there are times when the damage may be too extensive. You may think you need a root canal; however, Dr. Arditti prefers to use biometric principles and conservative treatments to help prevent the need for invasive, costly procedures. He can often repair decayed teeth with an onlay or dental inlay in Huntington Beach.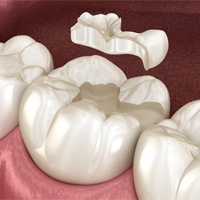 Do I Need an Inlay or Onlay?
When a tooth suffers extensive damage from a cavity, a filling may not be enough to save the tooth, but a crown may be too much. An inlay or onlay is the middle ground between the two procedures to restore the health of your tooth. An inlay fits in the cusps of a premolar or molar, whereas, an onlay covers one or more cusps.
An inlay or dental onlay in Huntington Beach are considered to be indirect fillings, which means they are made outside of your mouth in a lab and then bonded to your tooth. As a result, they often take two dental appointments to complete.
Depending on where the cavity occurs, your dentist, Dr. Arditti determines which treatment best meet your needs.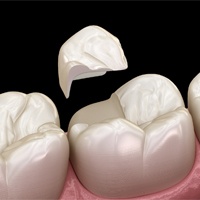 Benefits of Inlays and Onlays
Inlays and onlay offer a variety of benefits, including:
Made from high-quality material for aesthetics and durability.
Can last for several years with the right aftercare.
Preserve more of your tooth's structure.
Eliminate tooth sensitivity.
What Can I Expect?
After an initial consultation with your dentist in Huntington Beach, Dr. Arditti, you are scheduled for your procedure. Often, a local anesthetic is used to minimize your discomfort while the areas of decay are removed. Your tooth is reshaped to support the inlay or onlay before an impression of your mouth is taken. This is needed to get the exact measurements necessary for your restoration.
The dental lab makes the restoration to meet your exact needs. It can be made from metal or a tooth-colored material. It can take the dental lab a couple of weeks to ensure it meets your specifications, so a temporary filling is placed in the meantime. After your inlay or onlay is sent back to our office, you return for a second appointment to have your permanent one bonded to your tooth.
Your new smile can last for several years with the right aftercare, such as maintaining your home oral hygiene habits and visiting your dentist regularly.
Save Your Smile Today!
If you have a severely damaged tooth, we may be able to save it with an inlay or onlay. Contact our office to schedule your appointment.