Dental Checkups & Teeth Cleanings in Huntington Beach
A healthy smile is worth keeping. That's why the dedicated dentist and dentistry team at Pacific View Dental Group partner with patients to keep their smiles healthy for a lifetime with regular dental checkups and professional teeth cleanings. While many patients don't think these biannual exams are important, they are actually the best way to keep your smile healthy and functional for a lifetime. By visiting our Huntington Beach dental team for exams and cleanings every six months, we are able to partner with them to avoid oral health concerns with effective at-home care. These regular appointments also make it easier for us to diagnose oral health conditions that can't be prevented in the earliest stages, ensuring we're able to provide the most conservative treatment options. If you want to find out more or schedule your six month dental exams and teeth cleanings in Huntington Beach, don't hesitate to call our Pacific View Dental Group team. We welcome patients of all ages, and we look forward to seeing you soon.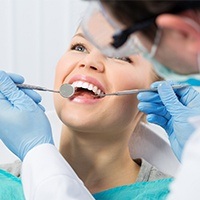 How Often Should I Visit the Dentist?
We recommend visiting our office at least two times each year for adult patients who don't struggle with frequent tooth decay, gum disease, or other chronic oral health conditions. This frequency is recommended by the American Dental Association to help patients keep their smiles healthy and avoid major dental issues. Most dental insurance providers also encourage patients to maintain their regular preventive dental exams by offering 80 to 100% coverage for the costs of these dentistry services.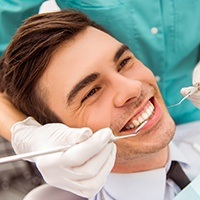 What Happens During Dental Exams?
During a dental exam at Pacific View Dental Group, you can expect to receive the following services:
Diagnostics – we will capture x-ray scans and images to help us get a complete picture of your current oral health
Screenings – we will carefully examine your smile for warning signs of common oral health conditions, including tooth decay, gum disease, teeth grinding and clenching, TMJ dysfunction, and oral cancer
Cleanings – a skilled hygienist will carefully remove plaque and tartar from the hardest to access parts of teeth
Consultations – we sit down with patients one on one to discuss oral health concerns, treatment options, and develop a plan for maintaining their healthiest smiles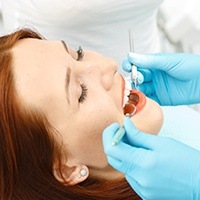 If I Brush & Floss Daily, Do I Need a Professional Cleaning?
The short answer is – yes. Even the most diligent at-home tooth brushing and flossing routine will not be able to remove plaque from every part of the tooth. There are some parts of the tooth that can't be accessed by even a single toothbrush bristle. Additionally, plaque buildup on the surfaces of teeth begins to harden into tartar in just twelve hours, and this hardened plaque has to be removed by a professional. In order to ensure your healthiest smile, regular cleanings by a professional are necessary.
What are the Benefits of Regular Checkups & Teeth Cleanings?
When you visit the dentist for regular checkups and cleanings, you can expect to experience a number of benefits, including:
Reduced risk for tooth decay, gum disease, and other oral health conditions
Early diagnosis for chronic health conditions like TMJ dysfunction and oral cancer
Improved oral hygiene leading to healthier looking teeth
Decreased chances for tooth loss
Resources to protect teeth from grinding and clenching, sports related injuries, and other issues before they begin
Maximize dental insurance since the majority of benefit plans provide the most coverage for preventive care