Children's Dentistry – Huntington Beach, CA
Keeping Kids smiling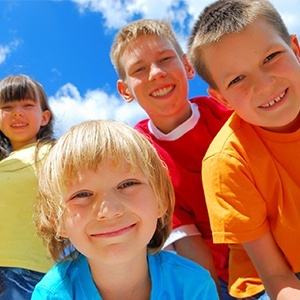 Millions of adults in the US report experiencing some level of dental phobia or anxiety. Of these patients, a large number say that negative childhood experiences at the dentist caused their phobia. The Pacific View Dental Group is dedicated to making dental care safe, comfortable, and stress free for patients at any age, but when we work with kids, we do so with an eye toward helping them learn to love visiting the dentist and maintaining healthy smiles for the rest of their lives. If you're looking for children's dentistry services in the Huntington Beach area, give our team a call. We love working with young patients, and we can't wait to get to know your whole family.
Why Should I Take My Kids to a Family Dental Office?
Many parents think that the best choice for their child's developing smile is taking them to visit a pediatric dentist, and for some kids, this is a great option. However, for the majority of young patients, working with a family dentist will deliver the same level of exceptional dental care in an office they can grow into. Some of the reasons parents choose to bring their children to visit a family dental office include the following:
Learning to Love the Dentist
When kids visit the same dentist for their entire dental development, they are more likely to receive consistent care that helps them avoid serious oral health conditions that require complex treatments. When your little one has this positive relationship with visiting the dentist, you can rest assured they will grow up learning to love going to the dentist.
Comprehensive, Kid-Friendly Dental Care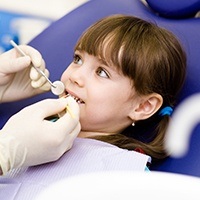 Traditional children's dentistry practices are geared toward accommodating young children. They are decorated and designed for kids, so as your child reaches adolescence, you have to transition them into a new dental office. Rather than dealing with a potentially uncomfortable transition, bring your child to a family dentistry office where their treatment can grow with their smiles.
Compassionate & Convenient Dentistry
A final reason why family dentistry may be the right option for your kids is the environment. Our team of compassionate dental professionals have years of experience works with young patients, and we know how to make them feel welcome and relaxed. We treat them with the level of patient-centered compassion we bring to the personalized treatment plans we offer for our adult patients. Because your whole family can rely on our team for dental care, you will be familiar with your child's dentists and can help them feel relaxed and prepared before their appointment. Plus, we can usually accommodate block scheduling, so you can bring the whole family to see us on the same day. That means you'll be right there if your little one needs you.
When Should I Schedule My Child's First Dental Appointment?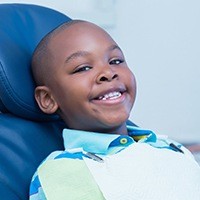 We recommend bringing your little one in around their first birthday. These early appointments are really just basic checks to make sure there are no developmental concerns that would lead us to recommend your child visit a pediatric dentistry specialist. Depending on the child's development and maturity, we typically recommend they start visiting for twice a year dental exams and teeth cleanings around the age of two or three.