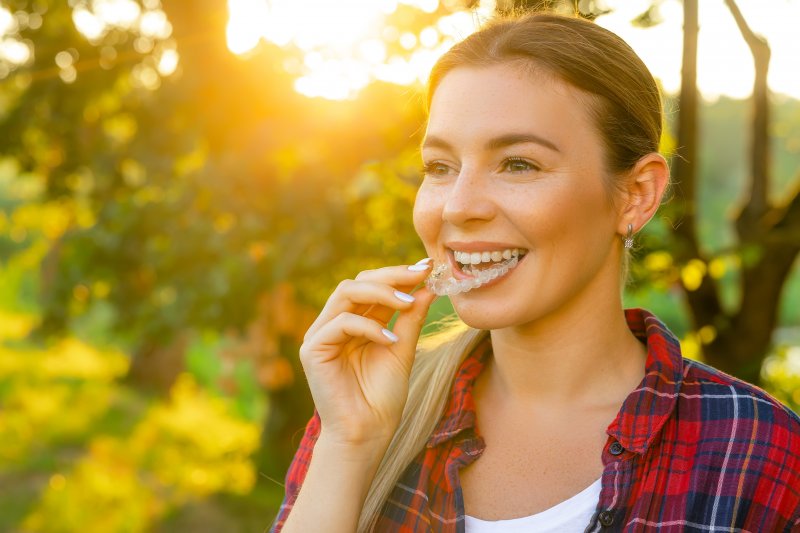 There are plenty of adults who are less than happy about the alignment of their smile but feel like braces will convey the wrong image to people. Fortunately, Invisalign aligners can allow those kinds of people to straighten their teeth easily, and with no impact on their appearance.
If you've been wondering whether Invisalign could be a good option for you, good news! This summer is actually the perfect time to get started. Here's why.
Ready for the Beach
If you've been working on your beach body all summer, you may not want a set of traditional braces to get in the way of the impression you make. If you want to impress the other beachgoers, or just look your best for Instagram, Invisalign can help you.
Clear aligners are thin and sleek, making them nearly impossible to detect if you aren't looking for them. You'll be able to straighten out your smile without having to worry at all about whether people notice your dental work.
Eat Whatever You Want!
If you've ever known anyone who has had traditional braces, you're probably aware that they come with a fair number of dietary restrictions. These can be especially irritating in the summer when you have to abstain from a lot of the best foods at barbecues.
One of the great things about Invisalign aligners is that they're removable, which means that you can eat without having to worry about these kinds of dietary restrictions. So long as you take your trays out beforehand, you can eat anything you want! Just be sure to thoroughly clean your teeth before putting your trays back on.
Seizing the Moment
Invisalign aligners start working as soon as you start wearing them, so the sooner you begin the treatment, the quicker you'll see results.
There's no time like the present to start caring for your oral health, so if you're on the fence, what are you waiting for? This summer is the best time to start!
About the Author
Dr. Alexandria Arditti understands that dentistry isn't just about teeth—it's about helping people live the healthiest life possible in every way that they can. She gets to know her patients as individuals and incorporates their specific needs into her treatment plan. Dr. Arditti received her degree from the Herman Ostrow School of Dentistry at USC, and she constantly makes an effort to stay on top of the latest developments in oral medicine.
If you have any questions about Invisalign, we can be reached at our website or by phone at (714) 592-4294.