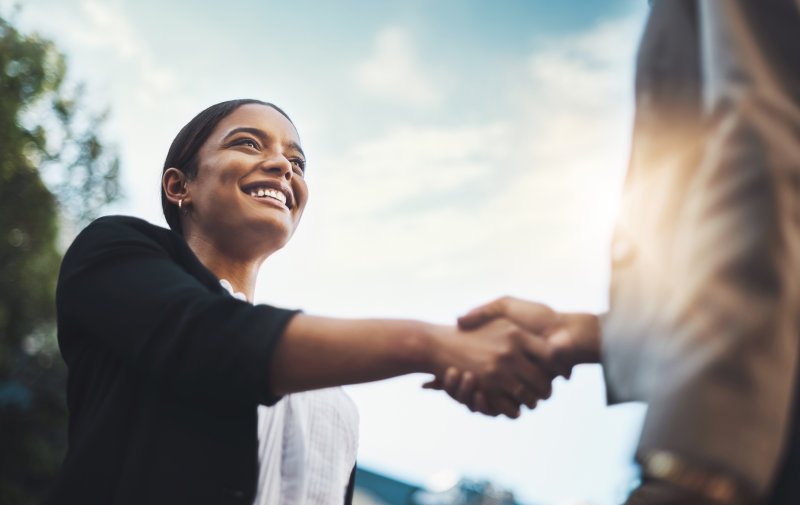 After a few years of Zoom meetings and social distancing, returning to the real world can be a little bit of a stretch for some people. While you might be used to talking to people virtually, coming across well in person is tricky, especially if you're out of practice.
While there's no "instant charisma" switch you can flip whenever you'd like, there are a few things you can do to make yourself come across as more approachable. Here are a few examples.
Avoid Covering Your Face
When meeting someone new for the first time, people subconsciously check your face for subtle signs that you're engaged and listening. If you're covering your face with your hat, your hands, or your phone, you'll naturally come across as aloof and apathetic.
Instead, focus on looking at the person you're talking to and keep your hands away from your face when they're talking.
Adopt Open Body Language
Nobody ever wants to be a bother, so if you seem like you aren't open to talking, you might wind up turning some people away. Even if you aren't intending to, your body language might be conveying that you aren't really interested in having a conversation.
Crossing your arms in front of your body or slouching heavily can make you appear sealed off to others, so try opening up your posture if you want to seem approachable.
Show People a Smile (When Appropriate)
Studies have shown that people who smile constantly can appear insincere, but it's also true that a well-timed grin makes you seem confident and appealing. It's recommended that you smile when you first meet someone, or when the other person is doing it too.
If you aren't happy with your teeth, you may want to talk to your dentist about cosmetic dentistry. They can give you a smile that you'll be proud to show off to others, and that'll make you much more endearing to the people you meet.
About the Author
Dr. Alexandria Arditti centers her practice on forming strong one-on-one relationships with her patients and partnering with them to help them achieve healthier, happier lives. That means that her patients not only benefit from her incredible clinical expertise but the comfort of knowing that someone is on their side when it comes to their oral health. Dr. Arditti received her degree from the prestigious Herman Ostrow School of Dentistry at USC, and she works hard to stay on top of the latest developments in oral medicine.
If you have any questions about how a beautiful smile can help you make a good impression, she can be reached at her website or by phone at (714) 592-4294.