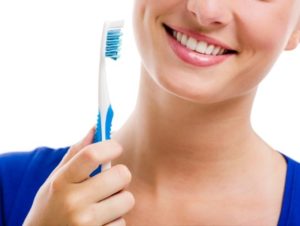 Spring is in the air, which means you're probably giving your home a thorough cleaning. As you open the windows to enjoy the fresh air while cleaning out your cabinets and closets, don't forget about your smile. Now is the perfect time to give your teeth the attention they deserve. Here are 4 ways to give your smile a good spring cleaning.
1. Change Your Toothbrush
Your toothbrush is the most important tool you have at home to keep your smile clean and healthy. The American Dental Association (ADA) recommends changing your toothbrush every 2 to 3 months, or when worn, whichever comes first.
If it has been a while since you've changed your toothbrush, it's time to swap it out for a new one. Choose one that has soft bristles and has earned the ADA's Seal of Acceptance for safety and effectiveness.
2. Revamp Your Brushing Routine
The ADA recommends brushing your teeth at least twice daily. If you have a habit of skipping brushing before bed, it's time to change your routine.
Strive to brush after every meal to keep cavities and gum disease at bay. Brush all surfaces of your teeth for at least 2 minutes using a soft-bristled toothbrush and fluoride toothpaste. Don't forget to brush your tongue and the inside of your cheeks, too.
3. Commit to Daily Flossing
Brushing alone can leave up to 40% of your teeth surfaces uncleaned because your toothbrush can't reach everywhere in your mouth. The American Dental Association suggests daily flossing to remove plaque and tartar buildup that can lead to gum disease.
Use high-quality floss to clean between each tooth at least once per day to keep your gums healthy and support your overall wellness. As an alternative to traditional floss, you can also use a water flosser. It emits a gentle pressurized stream of water to clean the most hard-to-reach places.
4. Schedule a Cleaning and Checkup
Besides caring for your smile at home, the ADA recommends a cleaning and checkup twice a year. Your dentist will remove any buildup left behind by brushing and flossing. They will also monitor your oral health to look for anything concerning, like tooth decay. They'll provide the quick care you need to preserve your smile to ensure it lasts for a lifetime.
Take a break from your deep cleaning to improve your oral hygiene habits. With your oral and general health closely entwined, you'll invest in a healthy mouth and body by keeping your smile clean.
About Dr. Alexandria N. Arditti
Dr. Arditti achieved her dental degree from the Herman Ostrow School of Dentistry and has regularly continued her education to provide up-to-date services. She focuses on prevention to help each patient achieve optimal oral health. If you need a cleaning and checkup, request an appointment through our website or call (714) 677-8469.