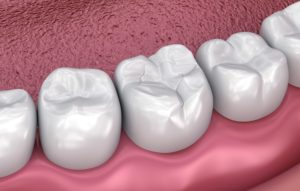 Dental fillings are an effective solution to treat tooth decay. They are designed to serve as a long-lasting treatment to repair the health of a tooth. Your restoration can last for many years, but various factors affect the lifespan of a filling. Don't worry, here's how long you can expect your restoration to last, and what you can do to get the most from your investment.
Average Lifespan of Dental Fillings
Every mouth and situation differs, which affects the lifespan of dental fillings. The materials used will have the biggest influence. Common materials used include:
Amalgam: 15 years
Composite: 7 years
Ceramic: 15 Years
Glass Ionomer: 5 years
Your dentist will explain which material is right for you and how often it will need to be replaced during your initial consultation.
Factors Affecting the Life Expectancy
No two mouths are identical, which is why the life expectancy is influenced by many factors, including:
Oral Hygiene Routine
A good oral hygiene routine will prevent new decay. It's best to use a soft-bristled toothbrush and nonabrasive toothpaste to brush your teeth at least twice daily for 2 minutes each session. Floss between each tooth once a day, and finish your routine with an antimicrobial mouthwash.
Oral Habits
Although fillings are strong, they aren't any match for certain bad habits, like chomping on ice, chewing on your fingernails, or using your teeth in place of scissors. It's best to break any bad habits that can damage your filling and natural teeth. If you grind or clench your teeth, ask your dentist for a nightguard to safeguard your smile. Don't forget to wear an athletic mouthguard if you play sports.
Diet
Fillings can withstand the pressure of biting and chewing, but they aren't indestructible. It's best to limit your consumption of hard or chewy foods to prevent damaging your filling. Moderate sugary foods and drinks to keep new cavities at bay.
Dental Care
Besides caring for your smile at home, visit your dentist every 6 months for a cleaning and checkup. They will keep your teeth clean and also examine your mouth and restoration to ensure there are any concerns. They'll detect the smallest change with your filling to replace it quickly before it turns into a big problem.
With the right care, your fillings can thrive for many years, but it won't last forever. If you notice any visible damage, sensitivity, or pain, it's best to contact your dentist to see if it's time for a replacement.
About Dr. Alexandria N. Arditti
Dr. Arditti earned her dental degree from the Herman Ostrow School of Dentistry and has regularly pursued continuing education in various specialties, like cosmetic dentistry and restorative dentistry. She uses the latest innovations in dental care to deliver superior services. If you need a filling, request an appointment through our website or call (714) 677-8469.