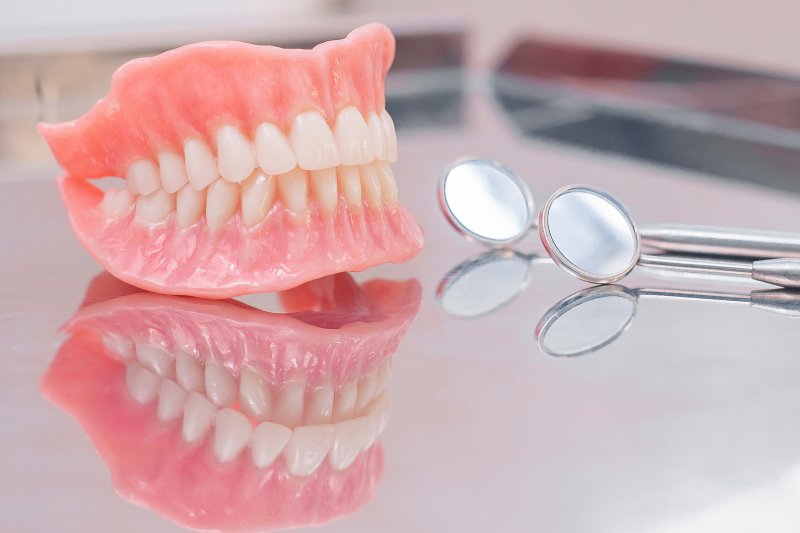 As you might know, dentures are prosthetics that replace your missing teeth. In particular, they look and act like natural pearly whites to restore your smile. However, did you know that dentures themselves can need replacement? Indeed, they only last a few years before they stop working. You might then wonder how to know when it's time to replace your own. Well, your Huntington Beach dentist is here with an answer. Read on to learn three signs that your dentures need replacing.
They Don't Fit Well
A great pair of dentures stays in place while you chew and speak. In other words, it'll have a tight fit between itself and your gums that keeps it from falling out of your mouth.
Given this fact, you'll want to replace your dentures if they stop fitting well. Adhesives or creams could help in the meantime, but they would only serve as short-term fixes. The lasting solution would be to get new dentures that match the recent changes in your jawbone's structure.
They're Painful to Use
If your dentures work well, they won't cause pain or discomfort. On the contrary, their fit ought to be a comfortable one.
In contrast, those that trigger pain don't work well and ought to be replaced. After all, it's better to have prosthetic teeth that don't hurt. Plus, the discomfort is a sign that your dentures aren't in good shape in terms of fit. 
They Make it Hard to Chew or Speak
True, learning to chew or speak with a new pair of dentures can take time. That said, this adjustment period should only take place for a few days or weeks. With time, an excellent pair of dentures will let you eat and talk just fine.
If you suddenly struggle to chew food or speak words, your restorations may not fit well anymore. More specifically, they might be getting loose and making you slur words or bite weakly. In that case, the best way to solve your problem is by getting replacement dentures.
They're Damaged
Dentures lose some of their functionality when they suffer damage. For example, a pair with broken teeth won't look good and may be less effective for chewing. Similarly, those with chipped bases won't adhere to your gums as well. To remedy these faults, it's best to repair your new teeth or get replacements.
As you can see, there are times when you'll need to replace dentures to protect your smile. Therefore, remember the signs above so you'll be ready for that day.
About the Practice
Pacific View Dental Group is based in Huntington Beach, CA. As led by Dr. Alexandria Arditti, our practice provides outstanding dental care with patient-friendly methods. Therefore, we offer preventive, cosmetic, and restorative dentistry that will meet your unique needs. You can thus trust our team for everything from dental checkups to dentures! For more information or to book an appointment, you can reach them at their website or by phone at (714)-592-4294.