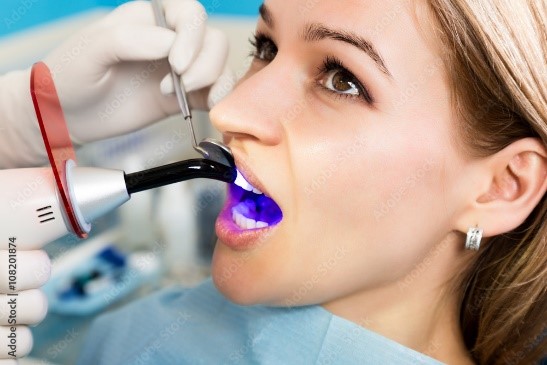 Having a healthy smile is key to avoiding oral health issues like cavities and gum disease. As well as you may try to care for your pearly whites, cosmetic issues may still develop over time. Decades of consuming stain-causing foods and drinks, sports-related injuries, and biting down on non-food items can leave your smile looking less lovely than it once did. Fortunately, cosmetic bonding can help. This simple treatment can improve the aesthetics of your smile in just one visit. Read on to learn about the cosmetic issues dental bonding can be used to correct.
Issue #1: Staining and Discoloration
Our tooth enamel naturally begins to wear away as we get older. Though this is normal, it can still make you feel self-conscious about your smile. Many dentists offer professional teeth whitening treatments, but they aren't always the right solution. Cosmetic bonding offers an alternative fix. Your dentist uses a composite resin to sculpt the teeth and conceal minor to severe discoloration. This results in a brighter, whiter, and more confident smile.
Issue #2: Chipped or Cracked Teeth
There are several things that can cause your smile to become chipped or cracked. Eating foods that are too hard, using your teeth as tools, or getting hit in the face while playing contact sports are a few examples of things that can leave your smile looking a little lopsided.
Cosmetic bonding can repair minor chips and cracks. Your dentist will apply the resin to the damaged part of the tooth and smooth it out to restore the look of your smile. It will be color-matched to the surrounding teeth so the repaired tooth seamlessly blends with the rest of your pearly whites. For larger cracks and chips, you may need to get veneers or dental crowns.
Issue #3: Alignment Problems and Misshapen Teeth
Most people aren't born with perfectly aligned teeth. Though serious alignment issues may require orthodontics, minor ones can often be repaired with cosmetic bonding. Your dentist can use the resin to make slight alterations to the shape of the teeth. This will make your beam look straighter by better matching the bonded teeth to the rest of your pearly whites.
Issue #4: Gaps in Your Smile
Having gaps in your beam can make you feel self-conscious about your appearance. Though you may need braces or Invisalign to fix larger gaps, small ones can often be corrected with cosmetic bonding. Your dentist can place the resin and shape it to make the teeth look slightly different in size or shape. This can close the gaps to make your smile look more uniform.
If you're interested in improving the look of your smile, set up an appointment with your dentist to learn more about cosmetic bonding and whether it's the right option for you. After just one appointment, you'll have a healthy, beautiful, and confident smile you can't wait to show off!
About the Author
Dr. Alexandria N. Arditti is the talented dentist who leads the team of Huntington Beach oral health professionals at Pacific View Dental Group. She has been with the practice since 2017 and takes pride in offering patients exceptional, effective care. For those looking to improve the look of cracked, chipped, gapped, mishappen, or discolored smiles, she administers cosmetic bonding treatments to fix your pearly whites in no time. Call Pacific View Dental Group at (714) 592-4294 or visit their website to make an appointment with Dr. Arditti or for more information on dental bonding.