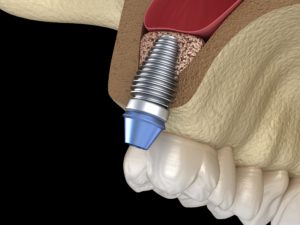 If you're missing teeth, you've probably heard about dental implants, but why are they such a popular treatment? A dental implant is unlike any other prosthesis because it recreates the entire tooth, including the root. You can enjoy the next best thing to your natural teeth using a solution that can last for decades; however, dental implants are a big investment. You likely have several questions about the procedure before you're ready to commit to it. There isn't any reason to worry. Here are the basics of dental implants to help you make the best decision for your smile.
How are Dental Implants Different?
Traditional tooth replacement methods only replicate the portions above the gum line, but a dental implant goes a step further. A titanium post is surgically placed into your jawbone to serve as a new root. An abutment is secured to the post to attach your restoration. Besides treating a single missing tooth, dental implants can also be used to support a bridge or denture.
What Is the Process Like?
If you're interested in dental implants, your first step is to schedule a consultation with your dentist to ensure they are right for you. Most patients who have good oral and general health are candidates, but your dentist will need to review a CT scan of your jaw to look for any potential complications, like bone loss. Some patients may need additional procedures before their implant placement surgery, like tooth extractions or bone grafting.
After you've healed from any previous treatments, you'll have surgery to place your dental implant into your jawbone. The post will stimulate your bone, allowing it to fuse to the implant through a process called osseointegration. It can take several weeks for your jaw to integrate with it. Once your jawbone has healed, an abutment is connected to the post. It will take your gum tissue a couple of weeks to heal before your restoration is attached.
What are the Benefits of Dental Implants?
Treating the entire tooth allows dental implants to provide exceptional advantages that aren't possible using traditional replacement methods, such as:
Over a 95% success rate to last for decades.
Looks and feels natural.
Regain as much as 70% of your natural biting force.
Preserves your jawbone's density.
Improves your oral health.
Don't rely on healthy teeth for support.
No slipping or irritation.
Easy maintenance and care.
Long-term, cost-effective treatment.
Invest in Dental Implants Today
If you're ready to benefit from the most reliable treatment for tooth loss, your dentist will explain everything during your consultation and address your concerns. After completing dental implants 101, you can feel confident about the road ahead.
About Dr. Alexandria N. Arditti
Dr. Arditti earned her dental degree at the prestigious Herman Ostrow School of Dentistry. She strives to promote her patients' overall well-being using a mind and body approach. Because of her extensive training and qualifications, she can treat complex dental issues, like missing teeth. Contact our office today to schedule your consultation for dental implants.