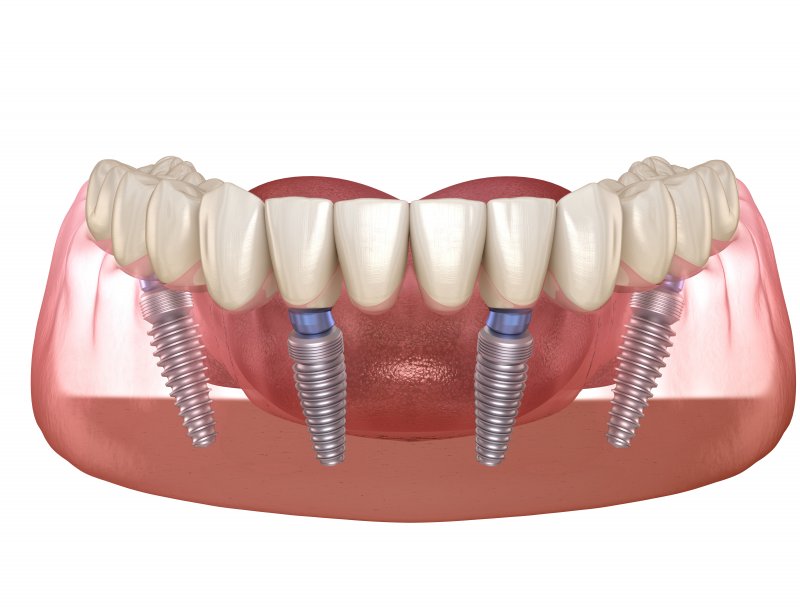 When you receive dental implants in order to replace your missing teeth, chances are that they'll be made out of titanium. Other materials are available, of course, but there are several reasons why titanium continues to be the most widely used option. After all, every dentist wants the very best for their patients, and that means picking the materials that will yield the highest quality results. Below, you can discover more about the history of dental implants and the advantages they have to offer.
Why Titanium is Used to Make Dental Implants
Around the 1950s, Dr. Per-Ingvar Branemark, a Swedish physician, was conducting an experiment that involved placing titanium oculars into the legs of rabbits. After the rabbits' legs had healed, he discovered that the titanium had fused with the bone and could not be removed. This was the discovery of osseointegration – the process of bone and titanium joining together. Further research was conducted, and eventually, in 1965, Dr. Branemark conducted the first successful dental implant surgery. The four implants inserted into the patient's jaw remained in place for over 40 years, proving themselves successful in both the short and long term. As a result, titanium dental implants are still used to this day.
Advantages of Using Dental Implants
Of course, titanium isn't just used out of a sense of tradition; there are several advantages to using it over stainless steel or other materials. Such reasons include:
Biocompatibility: The secret behind the success of dental implants is their ability to merge with the jawbone. Even other durable metals will only last for a few years if they're rejected by the body. Osseointegration is what lets titanium implants last for years.
High Success Rate: Dentists have had several decades to observe how well dental implants work in the long run. Currently, the estimated success rate of titanium dental implants is as high as 98%, thanks in part to the stability titanium provides.
Durability: Titanium is less likely to break or wear down than other materials. That means they can easily stand up to the daily pressures of biting and chewing, so you don't have to worry about putting too much stress on your teeth simply by eating normally.
Longevity: Titanium dental implants last for several decades. The average lifespan is around 30 years, but many patients keep them for the rest of their lives.
Do you think you're a good candidate for dental implants? Now's the time to find out. You can set up a consultation with your dentist to discuss your options and explore the various benefits of using titanium implants in your case. Rest assured that your individual treatment will be fully personalized based on your needs.
About the Author
Dr. Alexandria N. Arditti earned her doctor for dental surgery from the Herman Ostrow School of Dentistry at USC. She highly recommends dental implants to replace any number of missing teeth, and she has partnered with specialists in the area to ensure that her patients are happy with the results of their surgery. To schedule an implant consultation at her practice, Pacific View Dental group, visit her website or call (714) 592-4294.