Dental Crowns & Fixed Bridges for Huntington Beach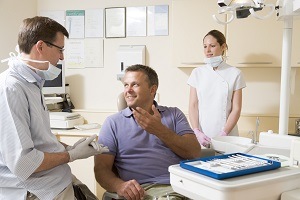 When patients experience dental damage or tooth loss, the Pacific View Dental Group team in Huntington Beach can offer effective repair using dental crowns and fixed bridges. These restorations are effective and versatile. If you've experienced dental damage, our skilled dentists and team can save your healthy, natural teeth using advanced dental crowns and fixed bridge restorations. Call our office right away if you notice any toothache pain or dental damage. We'll evaluate your oral health and create a plan to quickly repair your smile.
What are Dental Crowns?
Dental crowns are advanced restorations that fit completely over the top of a damaged tooth. They can be crafted from a number or materials including gold, porcelain fused to metal, and all-ceramic.
When Will I Need a Dental Crown?
Dental crown restorations can be used to repair smiles in a number of situations including:
To repair a damaged or decayed tooth
To replace a damaged or lost filling
To strengthen and protect a root canal treated tooth
To correct or conceal smile flaws or reshape a tooth as part of a cosmetic dentistry plan
To replace a single lost tooth when attached to an implant or as part of a fixed bridge restoration
What are Fixed Bridges?
A fixed bridge is a tooth replacement prosthetic. A replacement tooth or teeth are fused to two dental crowns, one on each end. Then, the dental crowns are affixed to surrounding healthy teeth to support the restoration, recreating the natural looking and feeling smile.
How Long Does the Restoration Process Take?
Both dental crowns and bridges are placed over the course of two appointments. During your initial visit, we will prepare the tooth by removing any damaged tissue as well as a small amount of surface enamel on all sides of the tooth to allow your restoration to fit within the natural smile line. Once the tooth is prepared, a bite impression is captured. This impression is sent to the dental lab where a custom crown or bridge is made. Then, we place a temporary to protect your prepared teeth. Once we receive the final crown or bridge from the lab, you'll return to our office, so we can exchange the temporary for a custom restoration.
Do I Need to Change My Oral Hygiene Routine?
Your dental restoration will have very little impact on your daily hygiene routine. We may recommend a change to a softer toothbrush or less abrasive toothpaste. If you have a fixed bridge, you may also need to use a specialized flossing tool or water flosser to clean thoroughly around the gum line. Twice a day brushing and daily flossing are complimented by six month dental checkups and professional teeth cleanings with our team. We'll examine your restorations carefully during these appointments, and we can repair damage to your restoration during these visits. You should also keep the following in mind to ensure the longevity of your crown or bridge:
Do not use teeth to open packages or crack nuts
Do not chew ice, fingernails, or pen caps
Use mouthguards as directed to protect teeth from nighttime teeth grinding and clenching
Wear athletic mouthguards to protect your smile during sports practices or games