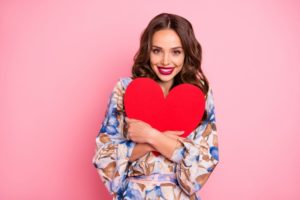 Heart disease is the leading cause of death in the United States; in fact, on average, one person in the U.S. dies every 36 seconds from it! February is American Heart Month, so it is the perfect time to pause to consider how you are caring for one of your most precious organs. Regular exercise and a balanced diet are both essential, but did you know that your oral health can also affect your heart? Let's talk about the link between gum disease and cardiovascular problems. We'll also discuss some steps you can take to protect both your smile and your heart.
The Connection Between Gum Disease and Heart Problems
Numerous studies have been conducted to examine the connection between gum disease and heart problems. One review article even found that gum disease can increase the risk of heart disease by as much as 20 percent. Separate research found that gum disease may heighten the risk of heart attack by a whopping 50 percent!
What is the reason behind the correlation between gum problems and poor heart health? More research on the subject is necessary before scientists can settle on a firm conclusion, but there are a number of possible explanations:
The bacteria that cause gum disease can sneak into the bloodstream and wreak havoc on other bodily systems.
Gum disease increases the body's burden of inflammation, which may in turn contribute to problems in the cardiovascular system.
Gum disease and heart disease have common risk factors, such as smoking and a poor diet, that may contribute to both conditions at the same time.
Protect Your Smile for a Healthy Heart
Here are some things you can do to reduce your risk of gum disease and heart problems:
Visit your dentist regularly. Your dental team will help you prevent gum disease via thorough cleanings and exams.
Know the signs of gum disease. Gum disease can cause swollen gums, bad breath, and bleeding gums. If you ever experience any of these symptoms, you should schedule a dental appointment right away. You may need periodontal therapy.
Practice excellent oral hygiene. Twice-daily brushing and once-daily flossing are among the best ways to fight the bacteria that cause gum disease.
Conquer bad habits. Smoking is terrible for both the heart and oral health, so every effort you make to quit will be well worth it. Also, if you routinely consume high amounts of sugar, it would be wise to cut back.
The key to a healthy heart may be in your mouth! Use the above tips to protect your smile and your overall well-being during Heart Health Month and well into the future.
Meet the Dentist
Dr. Alexandria Arditti is the friendly, caring dentist who leads the team at Pacific View Dental Group. She recognizes the dangers of gum disease and helps patient fight it via conservative therapies, including deep dental cleanings. If you are concerned about your gum health, she would be pleased to talk to you about your treatment options. Contact us at 714-592-4294.