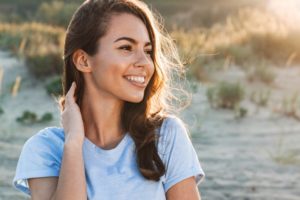 Here in SoCal, we are absolutely in love with the sun — and that's a good thing! While we are careful to protect our skin from overexposure to UV radiation, we know that spending time outdoors can have great benefits for emotional and mental health. But did you know that your time in the sun could also improve your oral health? A dentist in Huntington Beach is here to discuss the relationship between vitamin D and the well-being of your teeth and gums.
Vitamin D and Tooth Decay
Vitamin D helps your body to properly utilize calcium and phosphorous, which are the main mineral components of tooth enamel. Without adequate vitamin D, your teeth's natural defense system that rebuilds tiny bits of lost enamel day after day may not function as well as it should.
Research has found that among children who are considered to be vitamin D deficient or insufficient, there is a heightened risk of tooth decay. More research is necessary to find out how vitamin D may affect the risk of cavities in adults.
Vitamin D and Gum Disease
Vitamin D plays a large role in your immune system. It helps to regulate the immune system, and it has anti-inflammatory properties. There is a large body of research to indicate that a lack of vitamin D contributes to a heightened risk of numerous health problems, including infections and respiratory diseases.
More research must be done on the relationship between gum disease and vitamin D deficiency. However, since gum disease is an inflammatory response to bacteria that infect the gum tissue, it is reasonable to think that adequate vitamin D levels can help to combat the risk of gum health problems.
Increasing Your Vitamin D Intake
If you are curious about your vitamin D levels, your doctor can perform a blood test to let you know whether you need more of this important nutrient. If it turns out that you are a little lacking in vitamin D, spending more time outdoors may help because exposure to sunlight encourages your body to self-produce vitamin D. Many people need 10 – 30 minutes of exposure to midday sun at least a few times each week. Individuals with darker skin may need to stay outside for longer.
You can also increase your vitamin D levels through your diet or by taking supplements. Good food sources include fatty fish, eggs, and enriched dairy products. Most people need just 1 – 2 servings of vitamin D-rich foods per day. If you choose to take supplements, your doctor may recommend an appropriate dosage level.
Are you getting enough vitamin D? This remarkable nutrient is important for the wellness of your entire body, including your teeth and gums!
Meet the Author
Dr. Alexandria Arditti is a highly skilled dentist in Huntington Beach who promotes her patients' wellness through regular preventive services and personalized advice on at-home oral care habits. If you would like to ask her how you can improve the wellness of your teeth and gums, she would be happy to chat with you. Contact our office at 714-592-4294.