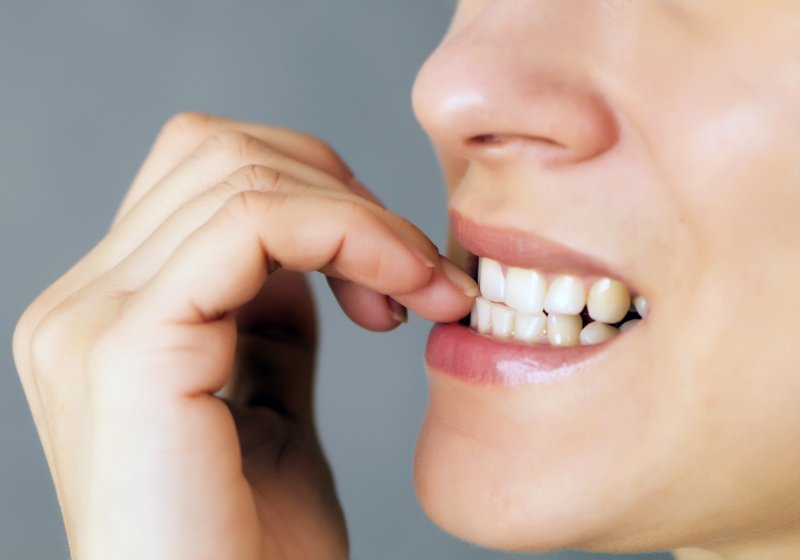 Do you have dental implants now, or are you considering getting them sometime in the near future? They have all sorts of benefits over other tooth replacement options which you can't get anywhere else. One of the many benefits is the fact that they can last upwards of 25 years and even the rest of your life if you care for them properly. That means avoiding a variety of bad habits that could cause damage to your dental implants in Huntington Beach.
Biting Your Nails
While this is a difficult habit to break, it is worth taking the time to discontinue this. Not only can it be harmful for your overall health by bringing bacteria and viruses into the body, but it can also damage your dental implants. Nail biting can cause you to chip or break your teeth, plus it causes you to place pressure on the jaw when it is in a protruded position for a long period of time. You could even tear or damage your gum tissue. In order to discontinue this habit, take steps to reduce stress, use a bitter nail polish, or try investing in a manicure.
Vigorous Brushing
In order to keep up excellent dental health, it is crucial that you brush twice and floss at least once every day, if not after each meal. However, your dentist in Huntington Beach warns that not brushing properly is just as bad as not brushing at all. If you are brushing too aggressively, you could damage both your protective enamel on your natural teeth and your gum tissue. In order to maintain strong dental implants, you must have healthy gum tissue. This habit can cause gum recession to occur over time. Always use a soft bristled toothbrush and apply gentle pressure.
Biting on Non-Food Objects
Many people have nervous habits that involve chewing on items that are not meant to be consumed. Whether you are drawn to ice cubes, pens, pencils, or something else, this can put too much pressure on your implants and can damage the bone the secures them.
Using Your Teeth as Tools
As convenient as it may be, using your teeth to rip through stubborn packing, open bottles, or cut through thread can cause damage. Since your dental implants do not have a periodontal ligament to cushion them, they are especially vulnerable to pulling and twisting forces.
Frequent Snacking
If you are constantly snacking on sugary foods or sipping on sweet beverages throughout the day, your teeth will not be thanking you. When you have these food particles in your mouth, bacteria will feed off of them and produce acid as a by-product. In the end, your enamel can endure damage and you are more likely to develop cavities.
Implants are a great investment for patients who have missing teeth, but you need to take care of them, and that means avoiding these habits. This way, you can benefit from them for many years to come!
About the Author
After earning her BA degree in medicine and biological sciences as well as her BS degree in health promotion and disease prevention studies from the University of Southern California (USC), Dr. Alexandria N. Arditti pursued her Doctor of Dental Surgery from the prestigious Herman Ostrow School of Dentistry at USC. For more information about dental implant care or to schedule an appointment, visit her website or call (714) 592-4294.