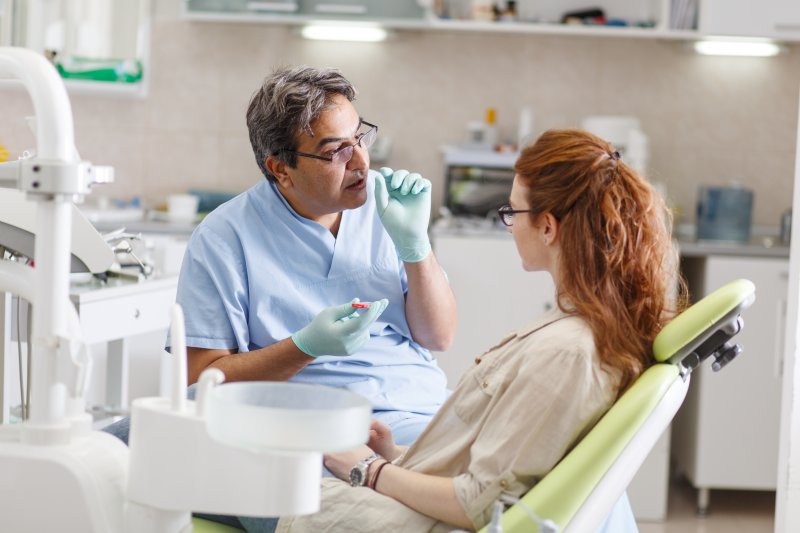 Are you ready for some staggering statistics? According to a study conducted in 2019, roughly 10 million females and 1 million males have a form of bulimia or anorexia in America. Plus, an additional 70 million people worldwide struggle with an eating disorder. Whether it is from unrealistic beauty standards, psychological abnormalities, or biological factors, the above conditions wreak havoc on your body, including your oral health. To shed more light on the negative consequences, your dentist in Huntington Beach is sharing how eating disorders impact your dental wellbeing.
What Are Eating Disorders?
At its core, eating disorders are characterized by abnormal or irregular eating habits. Often, patients who suffer from these conditions have an excessive preoccupation with food, calories, and weight. The three most prevalent eating disorders are:
Anorexia – In this condition, patients will severely restrict their food intake to obtain an unusually low body weight. Often, a distorted body image and phobia of gaining weight are common triggers for this eating disorder.
Bulimia – For patients with bulimia, an unhealthy pattern of compulsively eating an excessive amount of food before intentionally vomiting, taking laxatives, or exercising is a daily, weekly, or monthly occurrence. This cycle can wreak havoc on their mental, emotional, and physical health, but often does not result in abnormal body weight.
Binge–eating – When patients feel guilty or depressed after an episode of compulsive eating, they have a binge-eating disorder. While this condition is like bulimia, the major difference is that patients with binge-eating disorders do not purge.
8 Oral Symptoms of Eating Disorders
Did you know that 90% of health conditions have oral symptoms? Whether it is from malnutrition or exposure to the acid in the stomach from vomiting, the negative side effects of eating disorders are evident through the havoc they wreak on your teeth. Therefore, patients with anorexia or bulimia often experience:
Sensitive teeth.
Frequent cavities, root canals, and canker sores.
Worn and translucent teeth.
Difficulty swallowing.
Dry mouth and cracked lips.
Inflamed salivary glands.
Bleeding or irritated gums.
Bone loss in the jaw.
How Your Dentist Can Help
Seeking support and treatment can be anxiety-inducing, but your dentist is one of your biggest allies in your recovery. In addition to recommending a therapist or treatment center, they can also play a crucial role in treating your teeth with preventive and restorative measures. Depending on the severity of the damage, they may recommend:
Fluoride gel or treatments that strengthen your tooth enamel.
Toothpaste, gum, and mints with Xylitol (which is a sugar substitute that can prevent dry mouth and cavities).
Wearing a mouthguard to protect your teeth from harmful stomach acids.
The mental, emotional, and dental damage from eating disorders should not be dismissed. Therefore, your dentist will use their time, skill, and extensive resources to help get you the treatment you need both in and out of their office.
About the Author
In addition to earning two undergraduate degrees, Dr. Alexandria N. Arditti also received her Doctor of Dental Surgery from the world-renowned Herman Ostrow School of Dentistry at USC. For the last three years, she has used her passion for dentistry and mission to create beautiful, healthy smiles at Pacific View Dental Group. If you or someone you know is seeking dental care to correct damage to their oral health from an eating disorder, don't hesitate to contact her through her website or by phone at 714-592-4294.