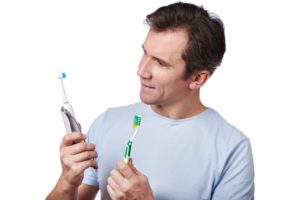 Although most look very similar, not all toothbrushes are the same. Different styles and types are designed to tackle different oral health concerns. However, with so many options available, how do you know which toothbrush is right for you? Read on as your Huntington Beach dentist answers all your questions about choosing the toothbrush that's best for your unique dental care needs.
Does Bristle Strength Matter?
Toothbrushes typically come in three varieties of bristle strength: soft, medium, and hard. While you can find all three types at your local pharmacy or grocery store, dentist generally only recommend toothbrushes with soft bristles. Studies show that continuous use of hard bristles can damage the gums and scratch away enamel, leaving your teeth weaker, more sensitive, and more prone to cavities in the long run.
The plaque that needs to be cleared off your teeth and gums is soft and sticky, so it doesn't require more force to remove. Soft-bristled toothbrushes can gently scrub it away without damaging your mouth in the process.
Which Toothbrush Size and Shape is Best?
Picking the right size and shape of a toothbrush is largely up to personal preference and brushing style. The handle should be long enough to comfortably reach all sides of your teeth, but not so large that it feels awkward to handle. The shape and angle of the head should also match your individual brushing habits. Whichever type you choose, always choose a toothbrush that has the American Dental Association's Seal of Approval for maximum safety and effectiveness.
Is a Manual, Interdental, or Electric Toothbrush Most Effective?
Dental experts agree that the most effective toothbrush is the one you remember to use every day. However, each of the following styles of toothbrushes have their distinct advantages:
Manual: The traditional toothbrush is typically the easiest to find, the least expensive, and the most intuitive to use.
Interdental: These smaller brushes are designed to clean hard-to-reach spaces like between the metal wires and brackets of braces and the tiny gaps between your teeth.
Electric: Modern electric toothbrushes are an excellent choice for those with limited mobility. They can also help improve brushing habits with built-in timers, sensors, and modes.
Brushing your teeth correctly is a fundamental part of great oral health, so make sure you're using the tool that's best for you! Choosing the toothbrush that's right for your unique smile will help you make the most out of your daily dental routine.
About the Author
At Pacific View Dental Group in Huntington Beach, CA, we believe that a happy, healthy smile can significantly improve your quality of life. Dr. Alexandria Arditti uses a combination of cutting-edge dental technology, relaxation techniques, and the most advanced dental services to help you feel your best both during and after your appointment. Your oral health goals are her top priority, so she'd be happy to take the time to help you choose the best dental products for your smile. If you have more questions about choosing a toothbrush, feel free to contact her at her website or at (714) 592-4294.