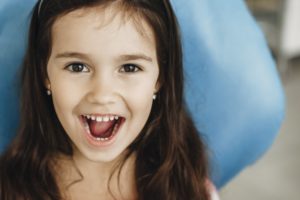 Since February is Children's Dental Health Month, dentists across the country are encouraging parents and patients to establish good oral hygiene habits at home. Why? Because preventive care provided by dental professionals simply isn't enough. If the desire is for your little one to maintain a radiant and healthy smile all-year-round, proper steps must be taken in-between their six-month dental checkups. To help you better understand what you can do to help the youngest smile in your family remain decay and disease-free, hear from a children's dentist in Huntington Beach as they sound off on ways to make oral hygiene fun.
Why Are Regular Checkups Important?
Yes, it is true that your child's six-month checkups and cleanings are vitally important to their overall oral health, but they are not the only solution to maintaining a healthy smile. These visits make it possible for a dentist for kids in Huntington Beach to check for any abnormalities or signs of tooth decay or gum disease as well as monitor the growth and development of their teeth. This is to ensure everything is moving and erupting as it should and that no bite problems currently exist.
This is also a great time for any plaque and tartar to be removed from around the gum line to prevent periodontal disease (gum disease).
But what about the months in-between the checkups? Harmful bacteria doesn't wait around to appear right before their appointments, so what can you do in the meantime to ensure a healthy smile through the year? The answer is to establish oral habits that are fun and easy for your child to do each day.
How Can You Make Brushing and Flossing Fun at Home?
This is dependent upon your child, but for most parents, incorporating some kind of reward system, turning on music, or making it a contest usually gets their child ready to brush, floss, and rinse all the bad stuff away.
A few things you can do to make the process more fun for your little one include:
Turning on some music: It's important that you and your child brush for a full two minutes, so if they do not have an electric toothbrush with an automatic timer and are instead, using a manual toothbrush, turn on a song that is 2 minutes long. This will not only make the time spent brushing more fun, but it will also ensure they are performing the task for the full amount of time.
Make it a game: There are plenty of apps available that can turn brushing and flossing into a game. If your child needs a bit of inspiration, let them play one of the games to ensure their teeth are thoroughly cleaned and free from bacteria and food particles that can become easily trapped.
Reward them: Did your child brush their teeth twice a day for an entire week? Did they remember to floss before bed for three days straight? If so, find a way to reward them with something special. It's important to gauge the type of prize on your child's personality and also, choose rewards that don't involve sugar, as this can be an open door for possible tooth decay and cavities. Instead, opt for a trip to the park, stickers, or picking out a toy the next time you go to the store.
Establishing good oral habits early on will set your child up for a lifetime of optimal oral health, so what are you waiting for? Get started today! Need help? Talk to a dentist in Huntington Beach about tips on tools and techniques to improve your child's skillset when practicing brushing and flossing at home.
About the Author
Dr. Alexandria Arditti joined Pacific View Dental Group in 2017. Graduating with her bachelor's degree in health promotion and disease prevention studies as well as a bachelor's degree in medicine and biological sciences from the University of Southern California (USC), she went on to earn her Doctor of Dental Surgery degree from Herman Ostrow School of Dentistry at USC. She and her team are happy to treat patients of all ages and that includes even the youngest smiles. To find out how she can help your child improve their oral health, visit our website or call (714) 592-4294.