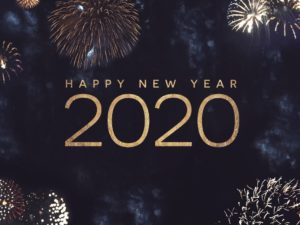 Researchers estimate that less than 10% of people who make New Year's resolutions actually stick to them, but one strategy that's been found to help is making realistic, attainable goals. This year, why not focus on 4 "mini-resolutions" that will improve your oral health (and overall well-being) in 2020? You'll have a healthier smile and more self-confidence and also need less major work from a dentist in Huntington Beach. And with the 4 strategies below, your resolutions will be easier than ever this year.
1. Schedule a Checkup and Cleaning
First and foremost, start by scheduling a checkup and cleaning. These visits are one of the best ways to prevent bigger dental problems because a dentist can find and treat any issues when they're small (for example, a small cavity can be repaired with a simple filling instead of a root canal or dental crown). These visits also include screenings for oral cancer and gum disease. When these conditions are found early on, treatment is much more effective.
2. Make Flossing Easier
Flossing is the most challenging habit for many people. But, along with getting a teeth cleaning in Huntington Beach every 6 months and brushing twice a day, it's an essential part of good dental health.
To make it easier, start with an attainable goal such as flossing 3 to 4 times a week. It may take time to establish the habit but once you've got it down, it will be easier to start flossing every day.
You can also try different ways of making it more convenient. Some people floss their bottom teeth in the morning and their top teeth at night. Others like to floss right after dinner instead of bedtime when they're too tired to think about it. You could even keep a container of floss at work and do it after lunch each day.
3. Add These Foods To Your Diet
Many New Year's resolutions focus on cutting down on foods like sugar. While that's certainly a good idea, you can also simply add the following foods to reduce inflammation in your gums and improve your oral health:
Any and all types of fruits and vegetables are a great choice. Citrus fruits are especially beneficial (whole fruit, not juice) for their vitamin C content.
Green tea contains anti-oxidants that contribute to a healthy mouth and body.
Crunchy foods like celery, carrots and apples naturally clean your teeth.
Dairy products like cheddar cheese have been shown to fight cavities. And low or no-sugar yogurt is excellent because it contains beneficial probiotics that protect your teeth and gums.
4. Experiment With Different Oral Hygiene Tools
There are many different oral hygiene aids on the market these days. Finding what works for you can make a big difference in your homecare routine. Electric toothbrushes are available at every price point and are significantly more effective than a manual. You could also try floss picks, interdental brushes and oral irrigators. If you'd like personalized recommendations, don't hesitate to ask a dentist or hygienist at your next dental checkup in Huntington Beach.
These 4 mini-resolutions are a great way to achieve a healthy, beautiful smile in 2020. And since they're easy to stick with, success is practically guaranteed!
About the Author
Dr. Alexandria Arditti is a family dentist in Huntington Beach and a graduate of the University of Southern California. She knows that oral health and overall well-being are closely linked and always gives her patients easy ways to improve both. If you'd like to know more about maintaining your smile in 2020 or have any other questions, she can be reached via her website.