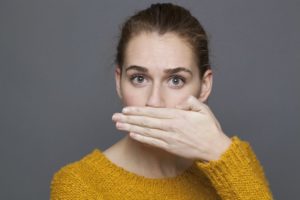 You're engaged in a conversation with a person when, all of a sudden, he or she backs away from you. This leaves you puzzled, wondering, "Is it because of the smell of my breath?" You can't think of anything much more embarrassing to happen, so you want to protect yourself. Here is how visiting your dentist for dental checkups in Huntington Beach can make a huge impact.
What Contributes to Bad Breath?
Foods like onions and garlic are notorious for causing unpleasant breath, but they don't pose any threats to your oral health. Instead, studies show they actually can be beneficial in preventing the growth of oral bacteria. By practicing proper dental hygiene, you can enjoy the oral health benefits while addressing the foul smells they can produce.
Where there should be more concern, though, is when the source of bad breath is bacteria accumulation. The foul smells they can produce serve as more than just inconveniences; they should also be considered as warning signs that encourage a person to visit a local dentist.
Thankfully, there are some ways to prevent embarrassing smells from bellowing from your mouth and to protect your oral health at the same time.
What Happens at a Typical Dental Visit?
Visiting your dentist every six months for preventive care is one of the main ways to keep bacteria growth under control and to ensure you have fresh breath. The routine procedures of cleaning and examining your teeth play vital roles because of the following attributes:
They remove harmful plaque (hundreds of different types of bacteria that form one structure) that could otherwise lead to oral health problems and bad breath.
Your teeth and gums are thoroughly examined to make sure there are no signs of decay or gum disease that could leave you with chronically-bad breath.
You'll consult with your dentist to receive pointers on ways to improve your oral hygiene and to better protect yourself from unnecessary oral health problems and bad breath.
The Important Role Your Oral Hygiene Plays
The best way to prevent bacteria growth and to maintain fresh breath is to brush and floss your teeth at least two times a day. The former agitates and removes leftover particles that cling to the teeth.
Then, the use of flexible dental floss allows for the removal of bacteria that rest in the tight spaces between your teeth. The combination of these two practices results in pleasant breath and the prevention of serious issues like gum disease and advanced tooth decay.
Now that you're better informed, it's time to put all of the pieces of the puzzle together. So reach out to your dentist in Huntington Beach to schedule a preventive care visit today!
About the Author
Dr. Alexandria N. Arditti earned her dental degree from Herman Ostrow School of Dentistry at USC. She has since gone on a quest to help every patient she encounters maintain fresh breath and to experience the best in dental health. Dr. Arditti provides top-notch preventive care at Pacific View Dental Group, and she can be reached for more information through her website.