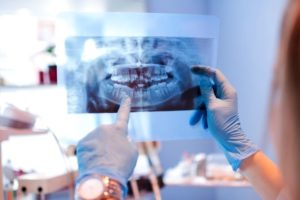 You don't have to be a movie buff to know that 3-D imaging is popular these days. What you may not know is that the same type of technology that makes images leap off the screen also helps your dentist in Huntington Beach to provide better care. Not only that, but modern imaging methods use only a fraction of the radiation required by old-fashioned 2-D X-rays. The result is not only a more comfortable treatment experience but better patient outcomes.
Why Traditional X-Rays Are Now Obsolete
Dentist have been using X-ray machines for over 100 years. But old-fashioned X-rays have serious drawbacks. These include:
Excessive amounts of radiation: traditional X-ray imaging exposes the patient to high of levels of radioactivity. In some patients, this can increase their risk of developing cancer.
Limited resolution: older X-ray machines only provide a blurry 2-D image of the patient's oral profile. This makes it difficult for the dentist to see problems going on deep inside the jaw. In some cases, it can lead to misdiagnosis or to unnecessary procedures.
Patient discomfort: for many people, undergoing a traditional X-ray is physically or psychologically uncomfortable, due to limited mobility or concerns over radiation exposure.
 Why Modern 3-D Imaging Technology is a Better Way
The limitations of traditional X-ray machines inspired researchers go back to the drawing board to develop an all new approach to dental imaging. The result is modern 3-D techniques such as dental cone beam computed tomography (CBCT), which offers advantages such as these:
 Enhanced diagnostic accuracy: old-fashioned 2-D X-rays sometimes allow problems to go undetected until they become serious concerns. Modern 3-D imaging techniques give the dentist a full and accurate picture of the teeth, bones, soft tissues, and nerve pathways, allowing faster, more effective treatment.
Reduced radiation exposure: modern imaging methods use only a tiny fraction of the radiation required for old-fashioned X-rays.
Enhanced patient comfort: patients are able to relax and enjoy an enhanced therapeutic experience, whether they're undergoing routine care or seeing an emergency dentist in Huntington Beach.
 How CBCT Imaging Revolutionizes Dental Care
Here are some examples of how modern 3-D imaging technology is revolutionizing dental care:
By taking the guesswork out of root canals: modern imaging techniques allows dentists to spot all of the nerve pathways in a tooth's roots, preventing oversights and ensuring root canal success.
By enabling accurate diagnosis of TMJ disorder: in the past, diagnosing TMJ disorder was hit-or-miss. CBCT imaging removes the guesswork from this important aspect of dental care.
By helping dental implants to succeed: just like natural teeth, a dental implant relies on the strength of the underlying jawbone. CBCT imaging allows dentists to choose the optimal spot to place the restoration, enabling faster recovery times and longer-lasting results.
Undergoing a CBCT exam requires no special preparations on the patient's part. You should wear loose, comfortable clothing and remove any jewelry or other metal items prior to the procedure. Pregnant women should consult with their dentist in Huntington Beach before undergoing a CBCT scan.
Modern 3-D imaging technology is just one of the ways that technology is transforming the world of dental care. Ask your dentist about the other exciting advances in the field during your next office visit. What you learn will give you plenty of reason to smile.
About the Practice
Dr. Alexandria N. Arditti leads a team of caring dental professionals whose utmost priority is their patient's safety and well-being. The staff uses cutting-edge technology and techniques to deliver a superior treatment experience. You can reach the office online or by calling (805) 676-1611.