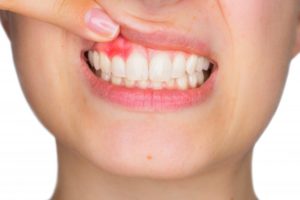 Gum disease—not exactly a hot topic, but one worth discussing, especially now during Gum Disease Awareness Month. Did you know that up to 85 percent of Americans have one stage or another of gum disease and many don't even know they have this bacterial infection? Gum disease isn't only a problem in your mouth, but it could create health problems throughout the body. Fortunately, gum disease therapy in Huntington Beach can stop the advance of the disease and reverse the effects. Continue reading to learn more about gum health and therapy methods.
What is Gum Disease?
Gum, or periodontal disease, is a bacterial infection of the soft tissue—your gums—and the underlying bone structure that support your teeth. The disease begins with plaque and tartar accumulation along your gum line. If not removed regularly with daily brushing and flossing, then the bacteria in plaque can lead to gum disease.
How is Gum Disease Recognized?
Initially, gum disease may not show any outward signs, which is why checkups with a dentist in Huntington Beach are so important. Trained hygienists will measure the depth of gum pockets around your teeth. A depth greater than four millimeters is one of the leading indicators of periodontal disease.
Other signs that you should be on the lookout for include:
Gums that are red rather than pink
Bleeding gums
Persistent bad breath
A partial or full denture that no longer fits well
Loose teeth
Pain when you chew or bite
Tooth loss
Your Health and Gum Disease
As gum disease progresses from gingivitis to periodontitis (the early and more advanced stages, respectively) the threat to your oral health increases. Ultimately, gum disease can lead to tooth loss. But beyond your mouth, gum disease has been linked to several bodily illnesses that can greatly compromise your overall health. Heart disease, stroke, diabetes, obesity, dementia, Alzheimer's disease and pregnancy complications may all have a connection to the bacteria that causes gum disease.
How Is Gum Disease Treated?
With gingivitis, gum disease can usually be reversed with a stringent oral hygiene routine at home and more frequent professional cleanings.
If the disease advances, scaling and root planing may be necessary. This process removes plaque and tartar. First, teeth are scaled above and below the gum line to remove tartar, and then root planing smoothes teeth to prevent plaque buildup. A round of oral or topical antibiotics may be prescribed, as well.
If you are experiencing any of the symptoms of gum disease mentioned above, then please contact a dentist in Huntington Beach. February is the perfect month to ensure the health of your gums as well as your teeth.
MEET THE DENTIST
Dr. Alexandria N. Arditti loves working with her patients in Huntington Beach. In addition to her doctor of dental surgery, she has a BS degree in health promotion and disease prevention, so she understands the importance of preventing and treating gum disease. She currently practices at Pacific View Dental Group and can be contacted by phone at (714) 677-8469 for any questions.