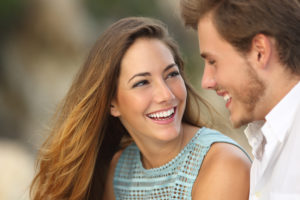 Looking for the perfect holiday gift? Consider teeth whitening in Huntington Beach. A single professional cleaning can last for a year or longer. Plus, teeth whitening can boost self-confidence and even help the recipient's personal, professional, and social life. What better way to brighten not only someone's day but their entire 2019?
Why Professional Teeth Whitening is Best
You may have seen ads for over-the-counter teeth whitening formulas that require no prescription. The companies that sell these products make all kinds of claims for their effectiveness. But does the truth live up to the hype? Here are the facts:
Professional teeth whitening from a cosmetic dentist in Huntington Beach uses top-grade formulas that are unavailable in any mass-produced kit. This means it's not only safe, it's remarkably effective as well.
Going to a dentist for teeth whitening allows a dental professional to give your teeth, gums and mouth a complete exam. This is important for the patient's overall health and well-being.
Trusting a dentist for teeth whitening services offers peace of mind that no store-bought product can give. Your lucky recipient will know that you've given him or her a truly thoughtful gift, one which will keep giving for months to come.
No Time to Sit for Teeth Whitening? How about a Take-Home Prescription?
Maybe the person you have in mind is too pressed for time to sit in a dentist's office for an hour or so. No problem; most dentists offer handy take-home whitening alternatives. These are nothing like the gimmicky store-bought products we mentioned earlier. They're available only by prescription from a dental office. The user will receive a custom-made tray along with about a two-week supply of the whitening product, to use in the privacy and convenience of his or her home.
How Prescription Teeth Whitening Formulas Work
There are two types of tooth stains; extrinsic and intrinsic. Extrinsic stains are on the enamel itself and can often be partly removed by toothpastes and dental rinses. Intrinsic stains exist in the tooth's inner layer called the dentin. These are the types of stains that require professional products to treat.
Prescription formulas contain two types of active agents. The first is a whitening agent that brightens the teeth. The second is an oxygen-based compound that reacts with the actual cause of the discoloration, dissolving the molecular bonds that hold it together. The result is an enhanced smile and newfound self-confidence.
How to Make Sure the New Smile Lasts
Prescription teeth whitening is like any worthwhile investment. Enjoying the best results does take a modest effort on the recipient's part. He or she should brush and floss daily, eat a sensible diet, and limit consumption of strongly pigmented beverages like colas and coffee. Of course, this is true for anyone who wants to enjoy brighter, whiter teeth.
Nothing can match the joy of knowing that a gift you gave for the holidays has made someone's entire life better. Consider a teeth whitening certificate for a special person this year. Then watch their face light up with delight.
About the Author
Dr. Alexandria Arditti is the newest member of the staff at Pacific View Dental Group's Huntington Beach office. Dr. Arditti earned her DDS degree from USC's prestigious Herman Ostrow School of Dentistry. You can reach her office online or by calling 714) 592-4294.