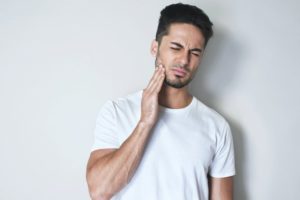 As an adult with permanent teeth, the last thing you want to endure is a tooth loss or damage to one of your digits. Still, accidents happen. Thus, if one of your teeth is damaged to the degree that your normal oral function is hindered, and you experience bleeding or intense pain, then you have a dental emergency on your hands. How should you respond to dental trauma? Your emergency dentist in Huntington Beach provides the answers you need!
No Matter What Happens, Do This
Regardless of what type of dental emergency you have, these are the first three steps you should take:
Take a Deep Breath – Discovering that you have a dental emergency can be unsettling, but it's important to not panic. Take a deep breath and calm your nerves before proceeding.
Assess the Situation – The next step is to take a full account of the situation. Are you bleeding? Did you lose a tooth? The greater attention you devote to this part of the process, the more it enhances your chances of recovery.
Contact Your Emergency Dentist – After taking an assessment of the situation, then reach out to a helpful staff member at your emergency dentist's office so you can be instructed on what steps to take next.
Along with the above methods, there are specific responses to different types of dental emergencies.
Knocked-Out Tooth
A knocked-out tooth is a serious occurrence that requires immediate attention in order for the digit to be salvaged. Carefully grab the tooth by the crown (the wider part) and place it in its correct location. If that isn't possible, then place the tooth in a cup of milk until you can be seen by your dentist.
Partially Dislodged Tooth
To protect a partially dislodged tooth, gently bite down on it. If there is any swelling, you can apply ice in 10-minute intervals to the outside of your jaw.
Chipped, Cracked or Broken Tooth
A chipped, cracked or broken tooth can leave you with moderate to severe pain. Rinse your mouth with warm water to remove any lingering debris or fragments. Then gently bite down on a cotton gauze to stop any bleeding.
If possible, retrieve any broken pieces, place them in a Ziploc bag and bring them with you when you visit your emergency dentist.
Lost or Broken Dental Work
If a dental restoration (crown or filling) has fallen out, then do the following:
Retrieve and dry it off.
Place a dollop of toothpaste, denture adhesive or dental wax on the fixture, and temporarily reinsert it.
Object Stuck Between Teeth
For an object lodged between your teeth, carefully floss around the area to attempt to remove it. If you are unsuccessful, then leave it to your emergency dentist to provide the care you need.
Injury to the Gums
A cut to your soft tissues can result in significant bleeding. Use a cotton gauze to encourage a blood clot to develop. If you are unsuccessful and the bleeding persists for more than 10 minutes, then head to your local emergency room.
Injury to the Jaw
A bad fall or blow to the face can result in intense jaw pain. If this happens, you should immediately head to the emergency room.
Pain or Swelling in the Face
One of the most common causes of pain or swelling to the face is a toothache. To reduce the discomfort, you can carefully floss around the affected tooth to remove any debris, take ibuprofen for pain relief and apply ice to reduce any swelling until you can be seen by your dentist.
You don't want to endure a dental emergency, but there is always the chance of one occurring. Your knowledge of how to respond to some of the more common types of dental emergencies coupled with the help of your dentist in Huntington Beach, will put you on the fast-track to recovery.
About the Author
Dr. Alexandria N. Arditti is a graduate of the prestigious Herman Ostrow School of Dentistry at the University of Southern California. Throughout her career, she has taken pride in providing her patients with the absolute best in comprehensive care. Dr. Arditti treats dental emergencies at Pacific View Dental Group, and she can be reached for more information through her website.