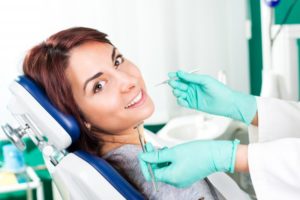 Have you ever wondered why your dentist always says to get a checkup and cleaning every 6 months? It's not just a sales pitch for another visit, but these stops at the dentist's office could be some of the most important appointments you go to all year. Maintaining a healthy oral care routine is great, but there are some places in your mouth that can only be cleaned by a professional. Read on to learn what else dental checkups in Seacliff can do for you, and how they can actually save you time and money in the long run.
Why Are Dental Checkups So Important?
Regular dental visits are essential for the health of your teeth and gums. During your appointment you will receive a dental examination where your oral health will be evaluated, and a cleaning to keep your mouth looking and feeling great. See what your dentist in Seacliff will be checking for and preventing.
Plaque, Tartar and Cavities
Even the most committed brushers and flossers need professional help to reach small areas of the mouth that are missed during regular oral healthcare maintenance. If plaque is not cleaned, it can form into tartar which can only be removed by a dentist. Cleaning the tartar in your teeth will prevent decay and cavities. A dental checkup is also much more affordable than fillings for your tooth decay.
Gum Disease
Plaque and tartar not only affect your teeth, but your gums too. Tartar buildup can cause infection in your gum tissue, making your gums pull away from your teeth. If not treated properly, this will eventually lead to serious gum disease costing you a lot more money and time with additional visits. Regular dental cleanings are paramount in preventing gum disease and dental examinations can catch the disease in its early stages where it can still be reversed.
Oral Cancer Detection
Oral cancer can often go undiagnosed because people don't know the signs. Your dentist is highly trained in recognizing the signs of oral cancer and attending dental checkups every 6 months will dramatically increase your likelihood of cancer prevention. Additionally, if oral cancer is caught in its early stages, the treatment is more likely to be successful.
Problems Under the Surface
A crucial part of your regular dental visits is X-rays. These X-ray images will help your dentist see things underneath the surfaces of your mouth, where he or she can find and diagnose issues that may be invisible to the naked eye. Dental issues like impacted teeth, growing in wisdom teeth, and jawbone decay are just a few things that can be spotted by dental X-rays.
After reading through some of the issues dental checkups can prevent and help, be sure to schedule your appointments every 6 months to make sure your mouth is getting the protection it needs.
Meet the Dentist
Dr. Alexandria N. Arditti takes pride in improving the overall health and happiness of her patients. She has a BS degree in health promotion and disease prevention, so she understands the importance of catching dental issues while they are small during checkups. She currently practices at Pacific View Dental Group and can be contacted by phone at (714) 592-4294 for any questions.