Dental Implant Aftercare – Huntington Beach, CA
How to Keep Your New Smile Healthy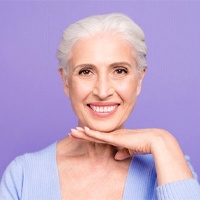 One of the best benefits about dental implants in Huntington Beach is their potential to last for decades. In fact, you can fully expect your newly rebuilt beautiful smile to last you a lifetime! However, that's only if you take care of your dental implants and the rest of your mouth properly. Read on as Dr. Alexandria Arditti shares a few simple yet important ways you can keep your smile healthy and intact for many years to come.
Make Oral Hygiene A Priority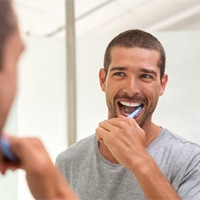 Even though your dental implants aren't vulnerable to tooth decay, you still need to keep them clean if you want them to stay healthy! If plaque and bacteria are allowed to build up in your mouth, they can attack the tissues around your dental implants, which can lead to painful complications. Thankfully, all you need to do to take care of them is to practice a thorough daily dental routine that includes:
Brushing twice a day: Make sure you're spending a full two minutes twice a day brushing your teeth and dental implants, especially along the gumline.
Flossing daily: Whether you use an interdental brush, pre-threaded flosser, or traditional dental floss, it's essential that you clean out the spaces between your teeth every day.
Regularly rinse with mouthwash: Using an antiseptic mouthwash regularly is a great way to clear away bacteria in parts of your mouth that are difficult to reach. However, it should never be used as a substitute for regular brushing and flossing!
Protect Your Dental Implants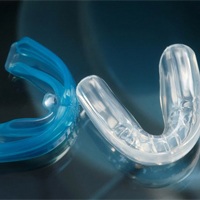 Extra pressure or force on your dental implant can damage the restoration or the tissues around it. Sometimes, it can even loosen the implant or break the post that anchors it to your jawbone! To keep your new teeth safe and intact, keep these tips in mind:
Wear a nightguard if you suffer from bruxism (teeth grinding): Grinding your teeth while you sleep (bruxism) can cause issues like headaches, gum recession, and jaw soreness. As your dental implant is worn down, it may chip or crack. Wearing a nightguard will protect it and prevent the symptoms of bruxism.
Wear a sports guard if you're very active: Playing sports is a great way to stay fit and healthy. Unfortunately, a sudden blow to the face from a ball or another player's elbow can mean big trouble for your dental implant. Keep it from fracturing by wearing a sports guard whenever you hit the field or court.
Schedule Regular Recall Visits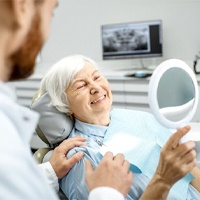 Whether you've replaced one, several, or all of your teeth with dental implants, regular checkups with your Huntington Beach dentist are still important. These regular visits aren't just for polishing your teeth and checking for cavities. They give your dentist a chance to closely inspect your mouth and evaluate how well your dental implant is doing. Your dentist may be able to spot an issue that you can't see or feel yet, then treat it before it causes any unnecessary damage or discomfort. More importantly, regular checkups can help prevent these problems from developing in the first place!
Now that you know how to keep your new smile healthy, you should be able to enjoy it for decades to come. If you find yourself with more questions about taking care of your dental implant, feel free to reach out to us right away!