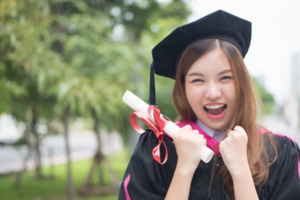 If someone in your life is getting ready to graduate from high school or college, you're probably feeling both proud of them and excited to see what their future holds! However, did you know that you can help to set them up for success by giving them the gift of a brighter and whiter smile prior to their big day? Here's more from your dentist about how cosmetic dentistry can directly benefit graduating students, along with a few perfect options worth considering.
How Cosmetic Dentistry Sets Graduating Students Up for Success
The bottom line is that your smile is perhaps your greatest asset when it comes to navigating social and professional situations alike; it's the first feature that people will notice about you, and it also relays a sense of pride and self-esteem that can make people want to be around you. A healthy and bright set of teeth can communicate several positive traits that people find desirable, including confidence, cleanliness, and friendliness!
Jobs That Can Benefit from Cosmetic Dentistry
In fact, there are all kinds of jobs and careers that greatly benefit from having good-looking pearly whites. Here are a few examples:
Attorneys, legal representatives, and others in the legal field
Teachers, professors, coaches, and trainers
Newscasters, meteorologists, and talk-show anchors
Television and film stars, content creators, and social media influencers
Restaurant and hospitality staff
Beauticians, hairdressers, and salon owners
Businesspeople, salespeople, and consultants
Repairmen, freelancers, and contractors
Cosmetic Treatments That Are Perfect for Grads
Here are a few examples of some popular and accessible cosmetic treatment options that can guarantee promising results for the graduate in your life:
Teeth whitening – If your graduate's unhappy with the color of their smile due to staining, this is an excellent choice. Professional teeth whitening can whiten teeth by up to several shades; just be sure to undergo treatment before graduation!
Porcelain veneers – These are one of the most flexible and versatile treatment options around, capable of totally revamping the appearance of compromised teeth. They can address a wide range of issues including chips, cracks, gaps between teeth, staining, and more.
Cosmetic bonding – This treatment is perfectly suited for minor aesthetic issues, and the best part is that it's incredibly quick and easy to carry out! A composite resin is used to masterfully mask any present flaws in teeth.
About the Author
Dr. Alexandria N. Arditti received her dental doctorate from the renowned Herman Ostrow School of Dentistry at USC and is a proud member of several professional organizations, including the California Dental Association. Her practice in Huntington Beach is thrilled to offer a wide range of cosmetic services that are certain to help the graduate in your life achieve a spectacular smile! If you have any questions about the blog or you'd like to arrange a visit, you can contact her practice online or by phone for assistance. Telephone: (714) 592-4294.