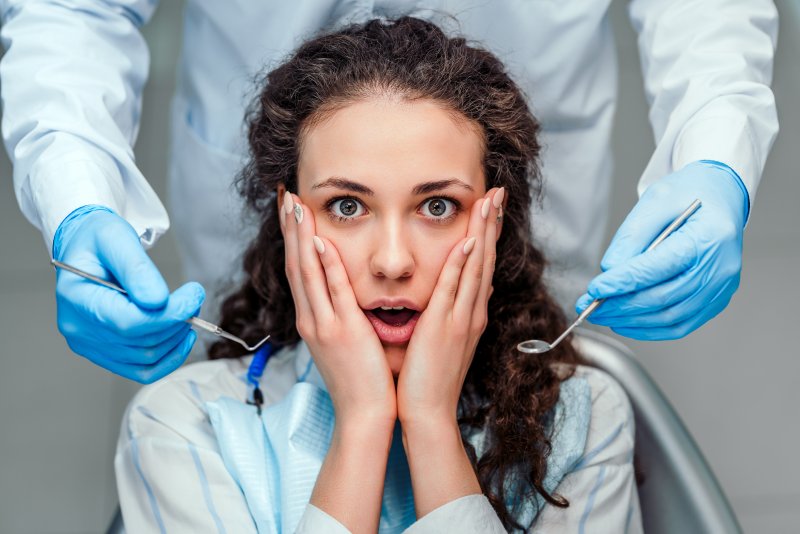 Halloween is a time when you can loosen up and find amusement in the things that easily frighten you. Although it's okay to be afraid of haunted houses, scary movies, and creepy costumes, there's one fear that's not so harmless – dental fear. It may not seem like a big deal to be afraid of the dentist because of how common it is, but it can actually damage your oral health if you let it get to you. In this blog post, we'll discuss how dental fear can be a serious problem and why you shouldn't let it keep you from seeing your dentist.
Why Is Dental Fear a Problem?
Everyone is afraid of something – it's completely normal! While being fearful is never a problem in itself, it's whether or not you let that fear control your behavior that's an issue. Unfortunately, the latter is usually the case in patients with dental fear. It keeps them from seeing their dentist unless absolutely necessary, meaning they're at higher risk of decay, cavities, gum disease, and other oral health problems. Neglecting preventive dental care (i.e., oral examinations, teeth cleanings, routine X-rays) can increase your chances of needing more complex and expensive dental work down the line.
The Importance of Regular Dental Visits
Does your dental fear keep you from seeing your dentist every six months? Here's what you're missing out on when you skip these preventive visits:
Oral Cancer Screening
At every bi-annual appointment, your dentist checks for signs and symptoms of oral cancer. If caught during the early stages, it's easily treatable with standard treatment. However, early detection is critical as oral cancer can quickly spread and become life-threatening.
Professional Teeth Cleaning
Even if you're diligent about brushing and flossing, some areas in your mouth can't be reached no matter how hard you try. Luckily, professional dental cleanings can help. Your dentist will use special tools to remove plaque, tartar, and bacteria from your mouth before it becomes destructive.
Gum Disease Prevention
If plaque and tartar build up, it can lead to an infection known as gingivitis, which is a chronic state of gum inflammation. It's one of the first signs of gum disease, meaning there's still a chance to treat it and reverse it during this stage.
Early Detection of Underlying Problems
During routine checkups, your teeth and jawbone are usually x-rayed. These images allow your dentist to get a better view of what's happening beneath the surfaces of your mouth and detect issues that are otherwise invisible to the naked eye.
How to Overcome Dental Fear
If you have dental fear, here are some ways you can overcome it:
Practice relaxation techniques (i.e., stretched, meditation, deep controlled breathing)
Ask about sedation dentistry
Bring a friend or family member with you during your appointment
Don't let dental fear keep you from receiving the care you need. By using the tips outlined above, you can overcome it and keep your smile healthy as can be this Halloween!
About the Practice
At Pacific View Dental Group, we offer comprehensive and high-quality dental services beyond what's anywhere else. Our skilled and experienced team will always go the extra mile to ensure your visits are as comfortable, satisfying, and fulfilling as possible. If you suffer from dental fear, we'll do everything we can to make you feel completely relaxed during your appointment. Visit our website or call (714) 592-4294 to learn more.