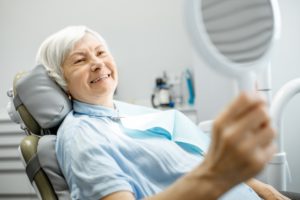 In the past few decades, dental implants have surpassed dentures as the gold standard for replacing missing teeth. Because of the powerful bond they forge with your jawbone, they have the potential to last for several decades if you take proper care of them. However, while the chance of implant failure is low, it can still occur. Keep reading to learn how to recognize when your dental implants in Huntington Beach have failed, and how to prevent it from happening in the future.
Common Causes of Dental Implant Failure
Some of the reasons why a dental implant might fail include:
Peri-implantitis. This is an infection of the gum tissue surrounding the implant, which is typically the result of poor oral hygiene after implant placement.
Bone loss. When you don't have enough jawbone mass to accommodate implants, they can't integrate with the bone as they should.
Injury. Trauma to the mouth, such as a sudden blow during a sports game, could break or even dislodge the implant. Chronic teeth grinding could also place stress on the implant.
How to Tell If Your Implants Are Failing
While there are many different causes of implant failure, the symptoms of this problem are largely the same. Generally, you'll know that your implant is starting to fail if you feel serious discomfort or pain around your implant, the surrounding gums are inflamed or swollen, or your implant feels loose.
What Your Dentist Can Do About Failing Implants
At the first sign of implant failure, call your dentist immediately. They can examine your mouth to determine the cause of the problem as well as the ideal solution. Here are some common treatment options:
Bone graft. Inserting artificial bone cells (or bone cells from another part of your body) may strengthen the bone supporting the implant.
Thorough cleaning. If infection was the cause, your dentist can remove the damaged tissue and disinfect the area.
Restoration replacement. Sometimes, the restoration (crown, bridge, or denture) may be damaged, not the implant itself. In this case, your dentist can provide you with a new one that mimics the rest of your smile.
How to Prevent Dental Implant Failure
Dental implant failure may sound scary, but preventing it is actually pretty easy. Practice good oral hygiene by brushing, flossing, and rinsing with an alcohol-free antibacterial mouthwash every day. Avoid chewing hard candy and other rough foods with your implant. Wear a nightguard if you grind your teeth while you sleep and a mouthguard if you play sports. Lastly, see your dentist for a checkup and cleaning at least twice a year.
Replacing your missing teeth with dental implants can completely transform your life. Follow the tips listed above to make your new smile last a lifetime!
About the Author
Dr. Alexandria N. Arditti is a dentist in Huntington Beach, CA who obtained her Doctor of Dental Surgery degree from the Herman Ostrow School of Dentistry at the University of Southern California. She enjoys working one-on-one with patients to help them improve their smiles, and in many cases, dental implants are the best solution for missing teeth. To learn more about how implants can restore your smile, visit Dr. Arditti's website or call (714) 592-4294.