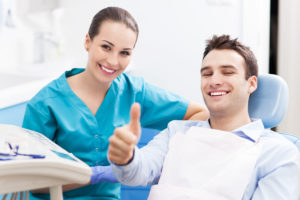 If you're looking for a dentist near Seacliff or Huntington Beach who you can trust with your family's oral health care needs, we've got some tips to help you find not just a good dentist but the right dentist to meet your unique oral health and hygiene needs. If you take the time to find the right dentist, studies indicate that you are more likely to keep up with regular in-office dentistry appointments that will help you avoid the majority of oral health concerns. That means that choosing the right dentist may be the difference between keeping your smile healthy and a lifetime of oral health issues. At the Pacific View Dental Group, we offer patients of all ages a wide range of dentistry services in a completely stress and pain free dental office environment where every member of your family will feel right at home.

Our Dedicated Dental Team
With decades of dentistry experience under our belt, our dedicated dentist and dental care team are passionate about creating a patient-centered dental care environment where every patient feels welcome. We take the time to answer questions and help patients to feel 100% confident in all of their treatments, and we truly go the extra mile to create a dental office where patients feel at ease.
Experience State-of-the-Art Dentistry Services
One way we improve the safety, comfort, and efficacy of our dental services is by using the most innovative dentistry techniques and technologies. We are constantly updating our office technologies and treatment methods and completing continuing education courses. Our goal is to provide the most conservative solutions to help patients achieve their healthiest smiles.
Affordable Dental Care
The Pacific View Dental Group provides affordable preventive, restorative, and cosmetic dentistry services. In order to help patients offset the costs of their dental care, we process and file dental insurance claims for most major PPO plans, and our office is in-network with many insurers. We also offer a Wellness Plan that provides discounted services for those patients without traditional dental insurance plans. If you need to spread the cost of your dental care out over several months, we are happy to work with CareCredit to provide low and no interest financing plans for qualified patients.
Meet Dr. Arditti
Your Huntington Beach and Seacliff dentist, Alexandria N. Ardiditti, DDS, offers patients a wide range of preventive restorative, and cosmetic dentistry services to meet any patient's needs. Most importantly, Dr. Arditti and the Pacific View Dental Group team make sure that every patient is completely comfortable from the moment they arrive in our office. We look forward to helping you with personalized treatment plans to meet every patient's need. If you want to learn more about our dental office environment or schedule an appointment in our Huntington Beach practice, give our team a call today. We'll be happy to answer your questions about our office or schedule an appointment for you to come and see the practice for yourself. We can't wait to meet you.