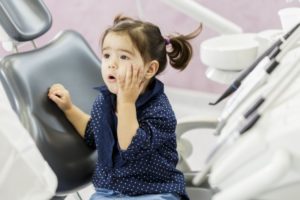 Did your child's first tooth recently appear? Or maybe you just moved to the Huntington Beach area and are looking for someone you can trust to care for your young one's smile. Whatever the reason for your search for a dentist, there is a key fact you should keep in mind: Not every dentist in Huntington Beach is willing to see children. Why is this so, and what advantages can you expect when you choose a family-friendly dental care provider?
Why Do Some Dentists Only Accept Older Patients?
It may seem strange that some dentists don't like to work with children, but there are a few reasons why they might shy away from working with very young people:
Children may have unique dental care needs. Some dentists may not feel well-qualified to handle certain situations as they relate to little ones' oral health.
If a child has special needs or is afraid of the dentist, it may be extremely difficult for them to sit still during their appointment.
Some dentists may simply be uncomfortable working with children, and their offices may not feel welcoming to young minds and hearts.
Does That Mean I Should Take My Child to a Pediatric Dentist?
Some dentists undergo extra training after dental school to equip them to provide the best care possible to children. They may learn about child psychology, tooth development issues that are unique to young smiles, and childhood conditions that can affect one's oral health. These dentists are highly qualified to protect the gums and teeth of infants through teenagers.
However, this doesn't mean that you must take your child to a pediatric specialist. A general dentist can provide compassionate, quality care to even the youngest members of your family. If, however, your dentist notices that your child has an oral health condition that requires more focused expertise, they'll likely refer you to someone who can handle the matter in the best way possible.
What Are the Advantages of Visiting a Family Dentist?
Why not make your children's dentist in Huntington Beach your own dentist as well? Visiting someone who is happy to look after every mouth in your household offers several advantages:
When the time comes for everyone to have their biannual cleaning and checkup, you won't have to drive all over town for appointments that are scattered here and there.
The dentist will get to know your entire family. Plus, your child can come with you during your appointment, which will make them more comfortable when it's their turn in the big chair.
You only have to keep track of one dentist's policies toward insurance and payments.
Dental care for your child is essential for their health and well-being! When you're looking for a trustworthy professional to care for your baby's smile, seek out a dentist in Huntington Beach who is pleased to see patients of all ages.
About the Dentist
Dr. Alexandria Arditti is your passionate and caring dentist in Huntington Beach. She loves to teach her patients about their oral health, regardless of how young or old those patients are. If you would like to learn more about Dr. Arditti and her practice, please contact our office at 714-592-4294.