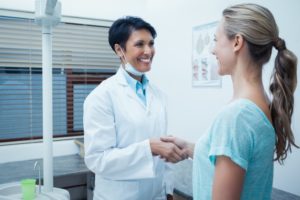 Are you new to Huntington Beach? While you're setting up house, one of the things on your to-do list should be finding a new dentist. Or maybe it's been a while since you had your teeth looked at, and you're ready to start taking your oral health seriously. Whatever the reason why you're in the market for a new dental care provider, you shouldn't just choose the first one whose ad you see. Here are some things you should look for in order to find the perfect dentist in Huntington Beach.
A Comfortable and Modern Environment
The way a dental office looks, and the way the people in it act, say a lot about a practice. Stop in for a brief meet and greet at the office of any dentist you're considering, and note signs that they take pride in their work. The environment should be clean and tidy, and the folks who work there should give you a warm welcome.
If the staff has time, you might take this opportunity to ask questions about the type of technology the dentist uses. While older methods of dentistry work well, advances are always making the patient experience easier and faster. If your dental care provider uses modern innovations, you can be confident that they want to provide you with the best service in town.
A Convenient Way to Pay
Some dental procedures cost a significant amount of money, but dental insurance is often willing to pay for all or part of such treatments. Find out which forms of insurance any potential dentists accept. If they're out of your policy's network, are they still willing to work with your insurance company?
Of course, not everyone has dental coverage. In that case, ask what forms of payment the dentist accepts. They might help you to apply for CareCredit, which lets you settle your bill in monthly installments.
At Pacific View, we are your "dentist near me" that offers a Wellness Plan to help you get the most out of your dental budget. Your annual Platinum membership includes two cleanings a year plus tons of other great perks.
An Interest in Education
Many dentists pay close attention to developments in the industry, and they take continuing education classes each year to help them stay abreast of the latest techniques in dentistry. No one knows everything, but a dentist who keeps learning is a dentist who is interested in providing the best care for their patients.
You also want your dentist to love educating you. Look for someone who is willing to take the time to talk with you about procedures and patiently answer any questions you have.
It might take some time for you to find the ideal dentist in Seacliff, but the effort will be worth it!
About the Dentist
Dr. Alexandria N. Arditti is passionate about helping her patients achieve great oral and overall health. She loves to work with people to help them reach their goals for their smile. If you would like to know more about her, please contact our office at 714-592-4294.